You might have leftover turkey soon, so here are my picks for the Top 10 Recipes for Slow Cooker Turkey Soup, plus some tasty Honorable Mentions as well! All these delicious soups feature from-scratch ingredients and have been tested by food bloggers!
Tomorrow is Thanksgiving Day and before long a lot of you will probably have leftover turkey staring you in the face, so I'm updating this post with my picks for the
Top 10 Recipes for Slow Cooker Turkey Soup (plus Honorable Mentions).
These are turkey soup ideas that are a bit more interesting than the usual carrots, celery, and noodles turkey soup variations that often show up after Thanksgiving.
But before we get to the recipes, did you realize that turkey and chicken are pretty much interchangeable in soup recipes? So if you have leftover turkey, you can use a recipe that calls for leftover chicken, and if you don't have leftover turkey you can use leftover chicken instead. You can also substitute diced, cooked turkey in pretty much any recipe that calls for cooked ground turkey, but add the cooked turkey towards the end of the cooking time so it doesn't all shred apart.
And Happy Thanksgiving weekend everyone; I hope you enjoy the Slow Cooker Turkey Soup ideas! I'm going to be taking a few days off while I enjoy Thanksgiving with my family, but I'll be back next week with some slow cooker ideas for Christmas.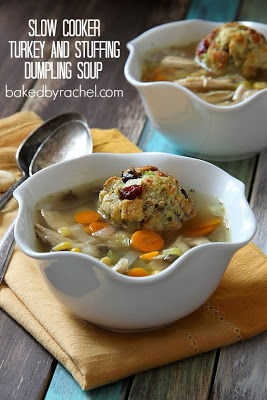 What's your favorite way to use turkey leftovers? Let us know about it in the comments!