I love the way the spaghetti part of this Creamy Crock Pot Spaghetti cooks right in the slow cooker!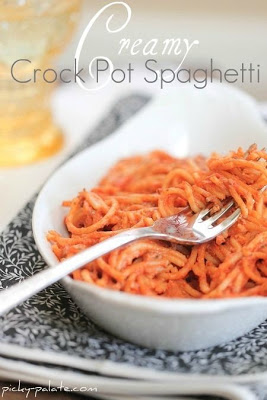 (Photos from Picky Palate.)
(For
Friday Favorites
we feature past recipes you may have missed, and I'm intrigued by how the spaghetti part of this
Creamy Crock Pot Spaghetti
cooks right in the slow cooker! I know Jenny from Picky Palate is a busy mom, and this sounds like a great dinner idea for back-to-school.)
This recipe for Creamy Crock Pot Spaghetti from Picky Palate came about when Jenny wondered what would happen if she cooked pasta right in the slow cooker. The result was this family-friendly crockpot recipe which uses layers of browned ground beef, spaghetti, homemade or from-a-jar pasta sauce, chicken stock, and two kinds of cheese, all cooked together to make a delicious-sounding dinner from the slow cooker.
Ingredients for this Slow Cooker Recipe:
lean ground beef
kosher salt
freshly ground pepper
garlic powder or salt
pasta sauce
spaghetti noodles
Parmesan cheese
cream cheese
chicken broth
Recommended Slow Cooker Size:
Jenny used a large 6 Quart Slow Cooker for this recipe.
More Slow Cooker Recipes from Picky Palate:
Slow Cooker Lemon, Honey, and Dijon Chicken Dinner from Picky Palate
Slow Cooker Green Chile Pork Tacos with Fresh Corn and Olive Salsa from Picky Palate
More Ideas with Pasta in the Slow Cooker:
Scroll through the Recipes-by-Photo Page for Pasta to see all the slow cooker recipes using pasta that have been featured on this site.