Overnight Slow cooker Eggnog Cranberry Steel Cut Oatmeal sounds like a treat for Christmas morning or any time you want a tummy-warming breakfast that's ready when you wake up!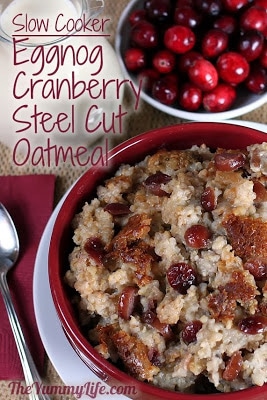 (Photos from The Yummy Life.)
Monica from The Yummy Life has been experimenting with steel cut oats in the slow cooker and she says this Overnight Slow Cooker Eggnog Cranberry Steel Cut Oatmeal is her favorite out of all the ones she's tried so far. And though Monica admits this "tastes more like dessert than a healthy breakfast" actually the steel cut oats, chia seeds, and cranberries are all packing a nutritional punch in this delicious-sounding recipe. If your family likes eggnog, I'm thinking this is a perfect breakfast for Christmas morning!
Ingredients for this recipe:
Eggnog
water
steel cut oats (gluten-free if desired)
dried cranberries
salt
chia seeds or ground flax seeds
optional toppings like nuts
additional dried cranberries
additional eggnog, nutmeg, or cinnamon
from The Yummy Life.
More Ideas for Breakfast in the Slow Cooker:
Use the Recipe-by-Photo Index Page for Breakfast to see all the slow cooker breakfast recipes that have been featured on this site.