Slow Cooker Chicken Carnitas Style is a lightened up version of Chipotle Mexican Grill Pork Carnitas, made using chicken thighs for great flavor! Skip the rice and serve with cauliflower rice or low-carb tortillas for a low-carb meal.
Click here to see all the Low-Carb Recipes on this site!
(Photo from Jeanette's Healthy Living)
(For Friday Favorites we spotlight past recipes that you may have missed, and this recipe for chicken cooked carnitas style would be perfect for Cinco de Mayo!)When she created this recipe for Slow Cooker Chicken Carnitas Style, Jeanette from Jeanette's Healthy Living was thinking of her son who loves the pork carnitas burrito at Chipotle Mexican Grill, but she wanted a lighter recipe with less fat, and definitely not using the lard that Chipotle lists as one of their ingredients.  I love the attention to detail used here to duplicate the flavor of carnitas while using chicken thighs, even down to frying the meat before serving for those crisp edges that make pork carnitas so good.
Ingredients for this recipe:
Boneless and skinless chicken thighs
salt and freshly ground black pepper
dried oregano
dried thyme
ground cumin
bay leaf
ground cayenne pepper
onion
garlic
juniper berries
juice of one orange
olive oil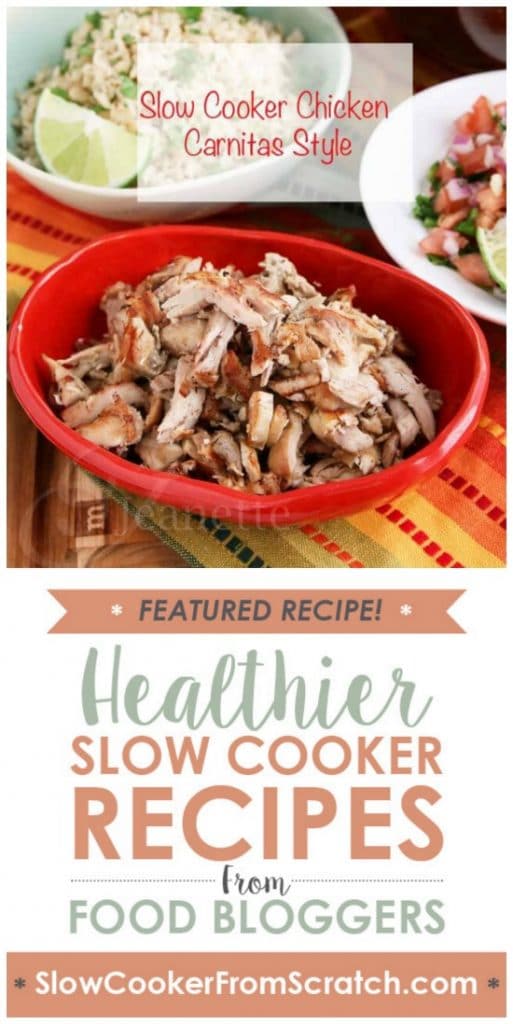 More Ideas for Chicken in the Slow Cooker:
Use the Recipe-by-Photo Index Page for Chicken Recipes to see all the Slow Cooker Chicken Recipes that have been featured on this site.