Gluten-Free Turkey Soup with veggies and winter squash, made in the slow cooker.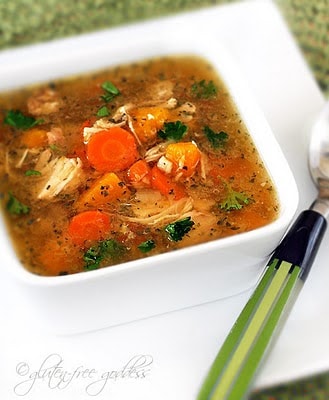 (Photo from Gluten-Free Goddess.)
(For
Friday Favorites
we spotlight past recipes that you may have missed, and this Gluten-Free Slow Cooker Turkey Soup sounds delicious.)
In the U.S. we're just a few weeks away from the biggest food holiday of the year, and food lovers everywhere are planning what to put on the Thanksgiving table, as well as what to make from leftovers when the big day is over. Of course you don't have leftover turkey yet, so might I suggest this tasty-sounding Gluten-Free Slow Cooker Turkey Soup from Gluten-Free Goddess. The recipe starts with a whole turkey breast that's cooked in the slow cooker with the other soup ingredients, and instead of the usual noodles or rice, the soup has cubes of winter squash adding flavor. Karina says a pinch of hot pepper flakes is optional, but that sounds like a great idea to me!
More Ideas with Turkey in the Slow Cooker:
Use the Recipe-by-Photo Index Page for Turkey to see all the slow cooker turkey recipes that have been featured on this site.