Kelly says this Slow Cooker Honey Garlic Chicken has "tender shredded chicken breasts tossed in a sweet and tangy sauce with honey, garlic, and soy sauce."
Click here to see all the Recipes with International Flavors!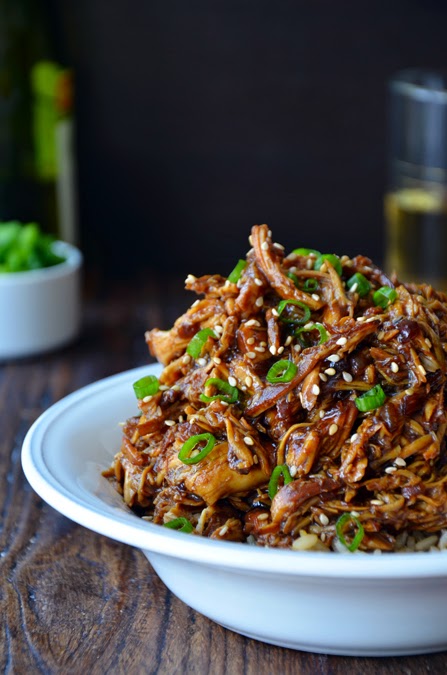 (Photos from Just a Taste.)
(For Friday Favorites we feature past recipes you may have missed, and this Slow Cooker Honey Garlic Chicken from Just a Taste is a delicious dinner idea the whole family will enjoy!)
Whenever I'm online I always look for good slow cooker recipes to feature here, and this recipe for Slow Cooker Honey Garlic Chicken from Just a Taste is one that definitely caught my eye.  Then when I went to Kelly's site to look at the recipe, there were so many comments from people who had loved it, so I knew this recipe had to be a winner.
This does have red pepper flakes for that spicy Asian flavor so many people like, but if you're cooking for kids Kelly says it will be just as good without them.  Go check this out at Just a Taste and I bet it will be in your slow cooker soon!
Ingredients for this CrockPot Recipe:
Bone in skinless chicken breasts
honey
low sodium soy sauce
blackberry jam
Hoisin sauce
olive oil
garlic
diced onion
crushed red pepper flakes (optional)
cornstarch
For garnish: Sliced scallions, sesame seeds.
More Slow Cooker  Recipes from this Blogger:
Simple Slow Cooker Pulled Pork Tacos from Just a Taste
More Ideas for Chicken Dinners in the CrockPot:
Use the Recipes-by-Photo Index Page for Chicken to see all the slow cooker chicken recipes that have been featured on this site.