Quinoa and Black Beans, cooked in the slow cooker with Mexican Seasonings.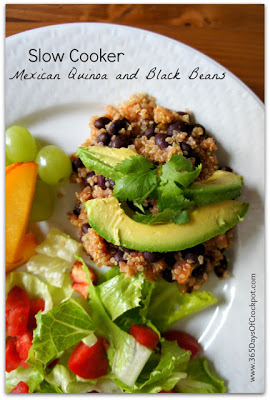 (Photo from 365 Days of Slow Cooking.)
Although I'm a big fan of cooking rice in the slow cooker, I haven't tried using it for quinoa, so when I saw this recipe for
Slow Cooker Mexican Quinoa and Black Beans
from 365 Days of Slow Cooking, I was intrigued with the idea. Then I realized how perfect this was for our
Slow Cooker Summer Dinners
, as well as being a wonderful idea for
Meatless Monday
and I liked Karen's idea even more.
Quinoa
is a high-protein seed with a slightly nutty flavor that's cooked as a grain; pronounced "keen-wah."
More Ideas with Grains and Beans in the Slow Cooker:
Use the Recipe-by-Photo Index Page for Beans and Legumes to see all the slow cooker bean recipes that have been featured on this site.