These healthy, low-carb Slow Cooker Paleo Cabbage Rolls would be perfect when you're watching your carbs but want an easy slow-cooker meal!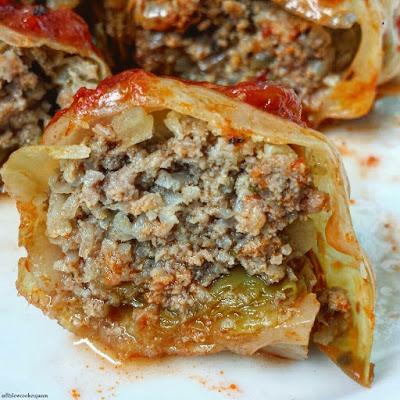 (Photos from Fit Slow Cooker Queen)

Slow Cooker Paleo Cabbage Rolls from Fit Slow Cooker Queen sound like a great menu idea for anyone who's trying to eat healthy or watching carbs, which is just about everyone this time of year. The cabbage rolls are paleo, low-carb, and whole 30 compliant, and Shannon says they're super easy to put together.
I'm always on the lookout for new dinner ideas that are healthy and easy. To me these cabbage rolls fit the bill for a healthy recipe. Lean ground meat, riced cauliflower, onion, and a few spices all rolled up in a cabbage leaf. Doesn't that sound like a winning combination to you?
Plus, the bonus here is you just assemble and place them in the slow cooker. From there the slow cooker takes over and works its magic. You can also freeze leftovers for later use and have another meal ready when you need it.
Ingredients for this CrockPot Recipe:
ground meat
cabbage
cauliflower rice
diced tomatoes
onion
Italian seasoning or oregano
salt
pepper
garlic cloves
More Ideas for Paleo Recipes in the CrockPot: