An easy slow-cooker version of Polish Kapusta; this one is perfect for the sauerkraut fans, but Mary reports she's not especially a fan of sauerkraut and she loved it!
Click here to see all the Sausage and Meatballs Recipes!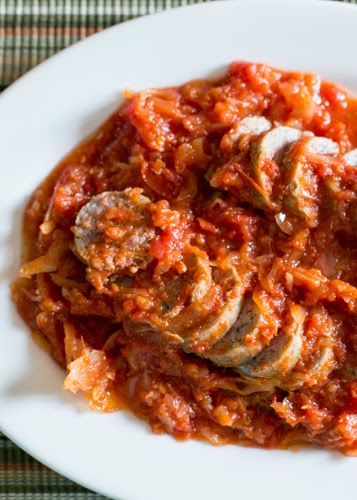 (Photo from Barefeet in the Kitchen.)
I'm a big fan of sauerkraut, so when my friend Mary at Barefeet in the Kitchen posted this three-ingredient recipe for Slow Cooker Polish Kapusta a few months ago I immediately saved it to feature here.  Mary has a sister who married into a Polish family, and that's where she got this recipe, which she says is often served with Pierogis.  And Mary reports she's not especially a sauerkraut fan but she loved this dish.This recipe is so easy it might be pushing it a little on the from-scratch aspect of the site, but I thought it was too good not to share.  (And for those who make their own sauerkraut, Polish sausage, or even Marinara sauce, more power to you!)
Ingredients for this recipe:
Sauerkraut
Polish sausage
marinara sauce (link provided for homemade, or use from a jar.)
Use the Recipes-by-Photo Index Page for Sausage and Meatballs to see all the slow cooker recipes using sausage that have been featured on this site.