Crock Pot Whole Butternut Squash is an idea that blew my mind when I saw it on Cook Eat Paleo! For everyone who hates cutting up raw butternut squash, this idea is a winner!
Click to see The Best Slow Cooker Winter Side Dishes!
Click here to see The BEST Instant Pot Potato Recipes!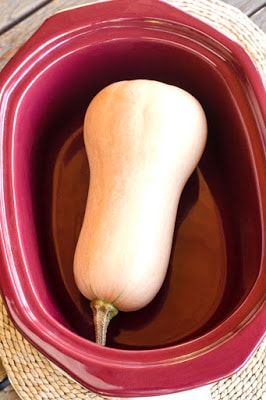 Thanksgiving is just a few days away and I've updated my post with 50+ Recipes for a Slow Cooker Thanksgiving, so I hope you'll be using your slow cooker to free up some oven space on the big feast day. Before everyone gets completely focused on turkey with all the trimmings, I wanted to share this idea for Crock Pot Whole Butternut Squash from Cook Eat Paleo.
I love, love, love butternut squash, but I don't love trying to cut it up and scrape out the seeds before I cook it. And personally I think those pre-cut squash cubes just don't have the same good flavor as freshly-cut squash. When I saw this idea for cooking a whole butternut squash in the slow cooker on my friend Lisa's great Paleo blog, it was a slap-your-forehead moment for me. Why didn't I ever think of doing this? Click over to Lisa's blog to get the details and thank her for this no-fuss way of cooking butternut squash!
Get the EASY recipe for Crock Pot Whole Butternut Squash from Cook Eat Paleo.
More Slow Cooker Recipes from Cook Eat Paleo:
Crock Pot Cauliflower Chicken Chili
Paleo Crock Pot Chicken Soup
More Paleo Recipes for the CrockPot or Instant Pot:
Visit the Index Page for Paleo to see all the slow cooker or pressure cooker Paleo recipes that have been featured on this site.
(Visited 4,217 times, 1 visits today)