Crockpot Blueberry BBQ Meatballs are made with ground pork and beef that's flavored with shallots and goat cheese; then cooked with blueberry barbecue sauce in the slow cooker!
Click here to see The Top Ten Slow Cooker Meatballs Recipes!
Click here to see The BEST Instant Pot Recipes for Meatballs!
Whether or not you're using the slow cooker I think it can be hard to decide to cook at this time of year.  In Utah the May weather can be hot and sunny one day and then raining or even snowing a few days later.  What you need for May are things that would taste good no matter what the weather was doing, and I think these Crockpot Blueberry BBQ Meatballs from Slow Cooker Gourmet fit the bill for that.
These from-scratch meatballs have panko breadcrumbs soaked in milk, ground pork, ground beef, goat cheese, shallots, and BBQ seasoning.  The meatballs are lightly browned for a few minutes under the broiler; then they go in the slow cooker with half the blueberry barbecue sauce and cook for a few hours.  When they're done, meatballs get tossed with the remaining sauce and dinner is ready! And I bet these meatballs are a main dish the whole family will enjoy.
Ingredients for this CrockPot Recipe:
panko breadcrumbs
milk
lean ground pork
lean ground beef
 egg
crumbled goat cheese
 diced shallots
BBQ seasoning
BBQ sauce (homemade or bottled)
blueberry preserves
Get the complete recipe for Crockpot Blueberry BBQ Meatballs from Slow Cooker Gourmet.
More Slow Cooker Recipes from Slow Cooker Gourmet:
Jerk Chicken from Slow Cooker Gourmet
Peach Glazed Pork Chops from Slow Cooker Gourmet
More Ideas with Meatballs in the CrockPot or Instant Pot:
Click here to see all the slow cooker or pressure cooker Sausage and Meatballs Recipes!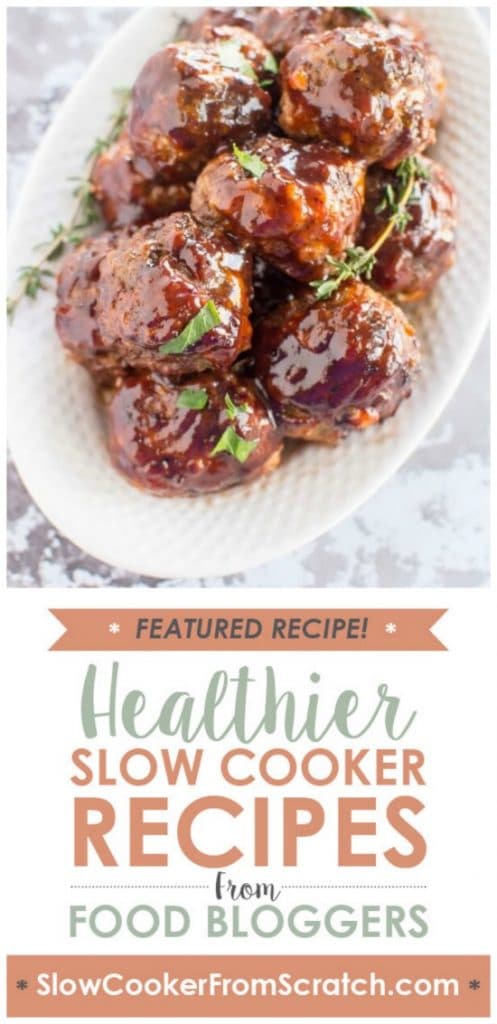 (Visited 396 times, 1 visits today)