When it's too hot to turn on the oven, make this CrockPot Peach and Cherry Crumble! You can have a delicious dessert without heating up the house.
Click here to see the BEST Slow Cooker Summer Desserts with Fruit!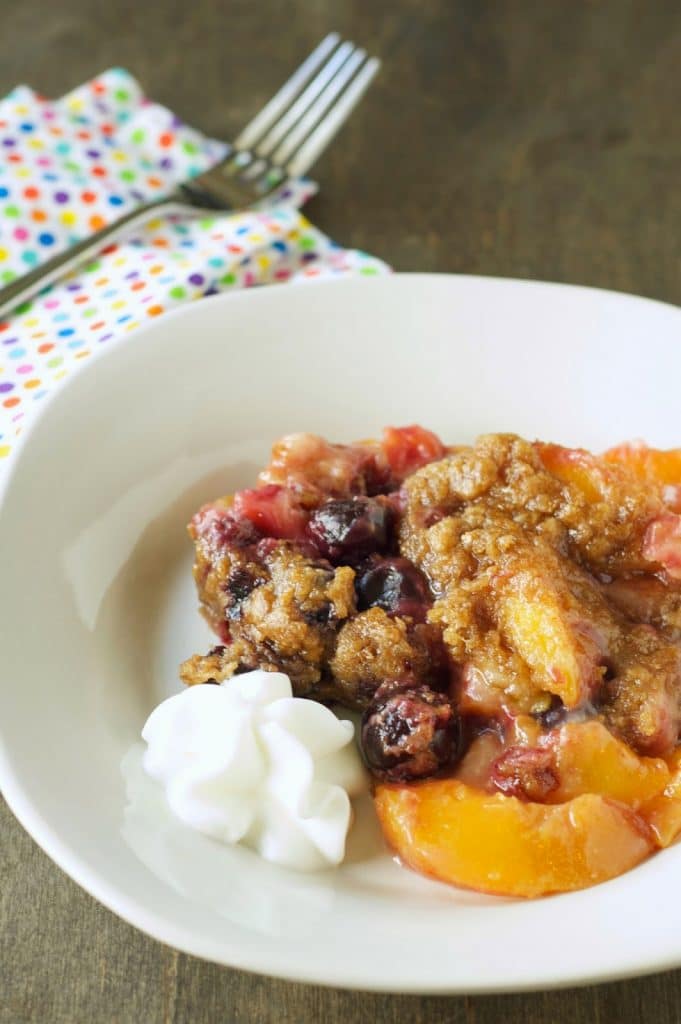 In Utah the weather is really heating up, and when it's really hot outside you probably don't feel much like turning on the oven to bake, no matter how much you're craving some kind of sweet treat.  That's when a recipe like this CrockPot Peach and Cherry Crumble from Slow Cooker Gourmet sounds just perfect!  Jennifer uses frozen peaches and cherries, so no worries if you don't have fresh summer fruit just yet, but I think this would be heavenly later in the summer with fresh peaches and cherries!
Ingredients for this CrockPot Recipe:
Frozen sliced peaches
frozen sweet cherries
greek yogurt
flour
sugar
milk
lemon juice
Topping: butter, wheat flour, brown sugar, sugar, cinnamon.
Get the Complete Recipe for CrockPot Peach and Cherry Crumble from Slow Cooker Gourmet.
More Slow Cooker Recipes from Slow Cooker Gourmet:
Lemon Cookie Bars from Crockpot Gourmet 
Coconut Lime Chicken from Crockpot Gourmet
More Ideas for Desserts in the CrockPot or Instant Pot:
Use the Index Page for Desserts to see all the slow cooker or Pressure Cooker dessert ideas that have been featured on this site.
(Visited 140 times, 1 visits today)