Five-Ingredient Slow Cooker Brown Sugar Ribs are about as easy as it gets for a tasty family dinner from the slow cooker! 
Click here to see The BEST Slow Cooker Ribs for an Easy Finger Licking Dinner
Click here to see The BEST Instant Pot Ribs for a Finger Licking Dinner!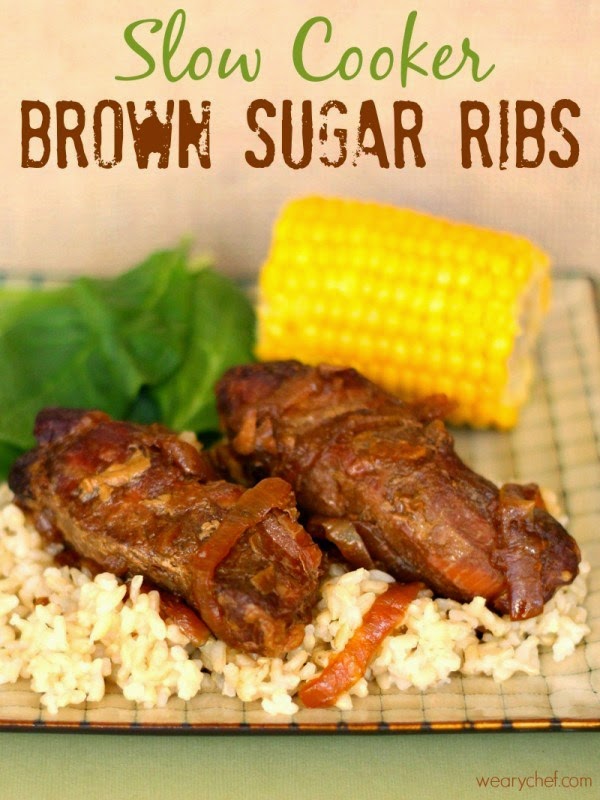 This past week I've been celebrating the Ten Year Anniversary of Kalyn's Kitchen (my original blog), and it has me thinking back to my earliest days of blogging, when I was teaching school full time and trying to do whatever I could for the blog at night and on the weekends.  Eventually I realized I could not do it all, and I retired from teaching and became a full-time blogger.
But even though it's now six years since I was a teacher, I remember vividly how the end of the school year feels about 100% busier than all the other months of school.  And for some reason that thought popped into my mind when I saw this delicious-looking recipe for Five-Ingredient Slow Cooker Brown Sugar Ribs from The Weary Chef.
Okay, let me spell it out for you. Only five ingredients, check. No need to brown the meat, check. Can cook all day while the kids are at school, check. Simple ingredients you probably have in the house, check. And most important of all, kid friendly flavors the whole family will probably like!
If you're a mom or dad who's extra busy this time of year, I hope this simple, family-friendly recipe will help with at least one of those end-of-year dinners. Enjoy!
Ingredients for this CrockPot Recipe:
soy sauce (gluten-free if needed)
brown sugar
seasoned rice vinegar
boneless country style pork ribs
sweet onion
Get the Complete Recipe for Five-Ingredient Slow Cooker Brown Sugar Ribs from The Weary Chef.
More Slow Cooker Recipes from The Weary Chef:
Chicken Adobo from The Weary Chef
Gluten-Free Dressing (Stuffing) from The Weary Chef
More Ideas with Easy Pork in the CrockPot or Instant Pot:
Use the Recipe-by-Photo Index Page for Pork to see all the Slow Cooker or Pressure Cooker Pork Recipes that have been featured on this site.
(Visited 210 times, 1 visits today)