On Wednesdays I share new or favorite Instant Pot or Slow Cooker recipes from Kalyn's Kitchen, and Hungarian Pot Roast will be a wow! And you can make this tasty dinner in the slow cooker or the Instant Pot!
Go right to the recipe for Instant Pot Hungarian Pot Roast
or Slow Cooker Hungarian Pot Roast at Kalyn's Kitchen!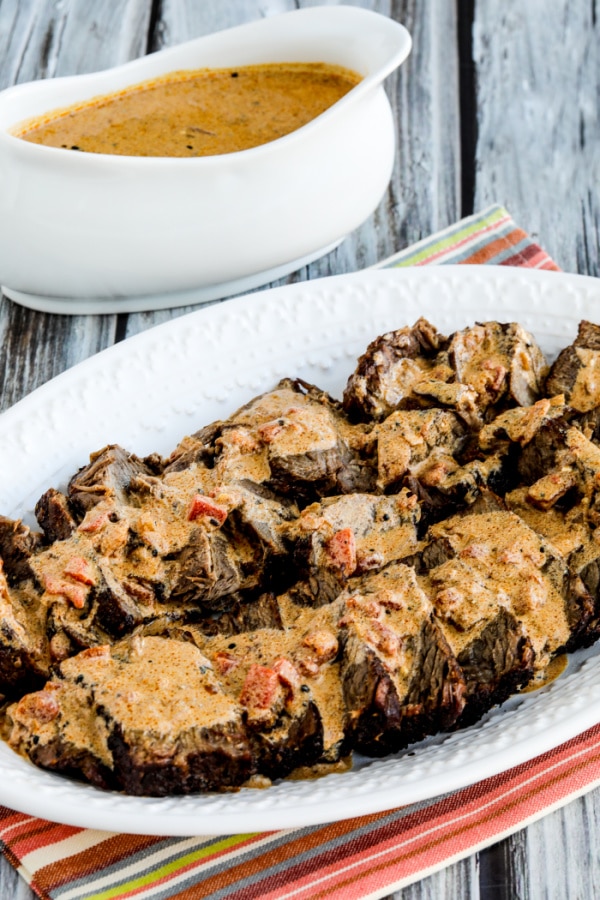 Over at Kalyn's Kitchen I've been having fun adapting some of my all-time favorite slow cooker recipes into an Instant Pot version. But turning a beloved recipe for slow cooker recipe into this amazing Instant Pot recipe for pot roast with Hungarian flavors turned out to be a challenge. I made it a few times with my amazing niece and cooking assistant Kara to get it just right!
But wow, did we ever love the new-and-improved Instant Pot version that added finely chopped red peppers after the meat comes out of the Instant Pot. This was a recipe where I happily gobbled up my share of the leftovers, and Kara reported it was a hit at her house as well!
What ingredients do you need for this recipe?
olive oil
beef chuck roast
steak seasoning
onion
Sweet Hungarian Paprika (affiliate link)
Szeged Hot Paprika (affiliate link), optional, but good
jar of roasted red bell peppers
canned petite diced tomatoes
beef broth
fresh ground black pepper to taste
sour cream
Why is this recipe a favorite for me?
I'm a long-time fan of Hungarian flavors like paprika, sour cream, peppers, and tomatoes and in this recipe I love the sour cream sauce with chunks of tomatoes and peppers that gets served over the meat!
More Slow Cooker and Instant Pot Ideas from Kalyn's Kitchen:
Use From Kalyn's Kitchen to find other slow cooker and Instant Pot recipes that have been featured on this site!
Get this recipe on Kalyn's Kitchen:
Get the complete recipe for Instant Pot or Slow Cooker Hungarian Pot Roast at Kalyn's Kitchen! I hope you enjoy trying it, no matter which method you choose!
(Visited 731 times, 1 visits today)