Instant Pot Mexican Beans from Kalyn's Kitchen have Avocado, Tomato, and Poblano Salsa and this is an amazing side dish for Mexican food! Remember this recipe if you're going to be cooking for Cinco de Mayo.
Go right to the recipe for Instant Pot Mexican Beans at Kalyn's Kitchen.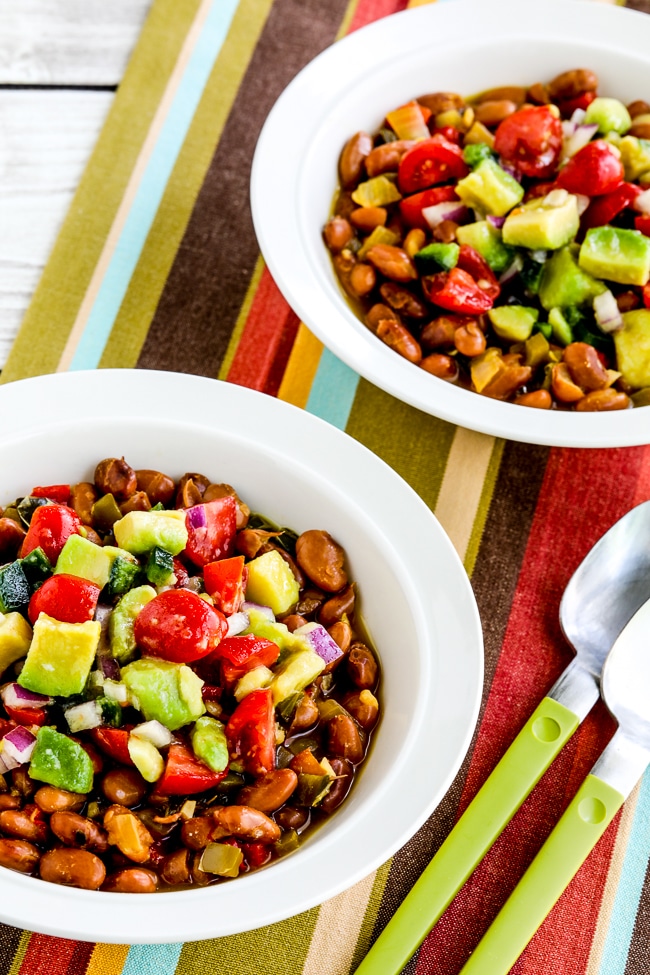 Instant Pot Mexican Beans from Kalyn's Kitchen start with dry pinto beans that cook in the Instant Pot without soaking. Then the beans are given a second flavor-enhancing cooking under pressure with onion, Poblano peppers, bell peppers, and just the right Mexican spices. The delicious creamy finished beans are served with an amazing Poblano-Avocado salsa, but they're also great with purchased guacamole if making the salsa is not happening at your house!
And I promise you, these beans are absolutely a wow! The recipe is dairy-free, gluten-free, low-glycemic, and vegan, and I bet if you make these beans you'll end up making them over and over! I don't eat a lot of beans, but beans cooked like this is something I'd never be able to resist.
What ingredients do you need for this recipe?
pinto beans
olive oil, divided
onion
Poblano pepper
green bell pepper
red bell pepper
minced garlic (affiliate link)
ground cumin (affiliate link)
dried Mexican Oregano (affiliate link)
Goya Sazon Seasoning (affiliate link), optional, but good
canned vegetable broth
salt and fresh-ground black pepper to taste
avocados
cherry tomatoes
fresh squeezed lime juice (I use my fresh-frozen lime juice)
red onion, finely chopped
olive oil
What size Instant Pot did I use?
I used a 6 Quart Instant Pot for this recipe. (affiliate links)
Why is this recipe a favorite for me?
The process used here where dried beans are cooked in the Instant Pot, then they are cooked again with onions, peppers, and seasonings, and the finished beans are finished off with a flavorful Poblano-Avocado salsa produces Mexican beans that are really just amazingly good. I especially love the double-dose of Poblano peppers used here (sometimes called Pasilla Peppers in U.S. grocery stores.) That's one of my favorite Mexican ingredients.
More Slow Cooker and Instant Pot Ideas from Kalyn's Kitchen:
Use From Kalyn's Kitchen to find other slow cooker and Instant Pot recipes that have been featured on this site!
Get this recipe on Kalyn's Kitchen:
Get the complete recipe for Instant Pot Mexican Beans  at Kalyn's Kitchen.
(Visited 456 times, 1 visits today)