Use the Slow Cooker or Instant Pot to make this Italian Pulled Pork Ragu that would be wonderful served over pasta, spaghetti squash, or spiralized zucchini noodles.
Click here to see The BEST Slow Cooker Pork Tacos from Food Bloggers!
Click here to see 50 Amazing Instant Pot One-Pot Meals!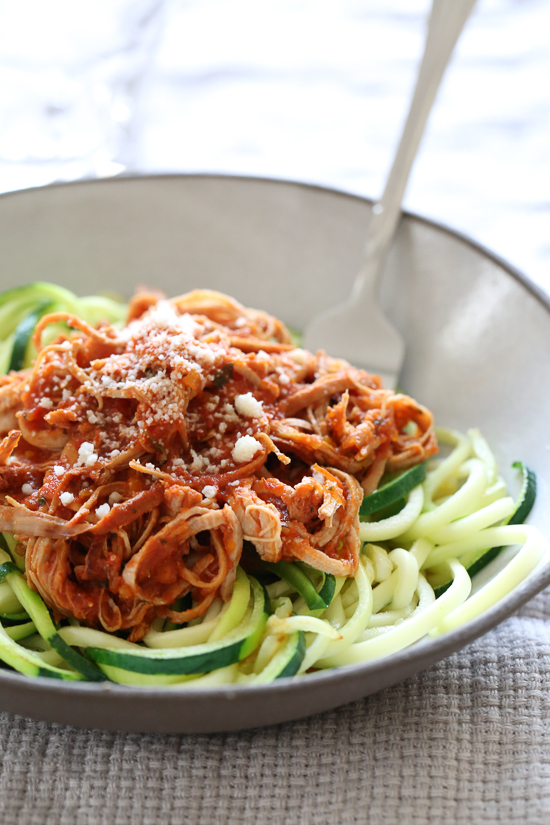 Instant Pot or Slow Cooker Italian Pulled Pork Ragu from Skinnytaste combines the rich flavor of pork tenderloin with tomatoes, roasted red peppers, and fresh herbs to make a hearty sauce that is oh so tasty. And pork tenderloins are a lean option which makes the sauce light enough that even eaten over pasta it's a low calorie dish.
For an even lower calorie, low-carb option try the sauce over spiralized zucchini noodles or spaghetti squash. (Here are Three Ways to Make Zucchini Noodles if you haven't tried that.)
Gina says she's tested this recipe in both the slow cooker and the instant pot and it comes out great either way you want to make it. So go ahead; choose your preferred method and give it a try! And just serve this with something like a cold cucumber salad and it would be perfect for a Summer Dinner!
Ingredients for Italian Pulled Pork Ragu:
pork tenderloin
kosher salt
black pepper
olive oil
garlic
tomatoes
thyme
bay leaves
parsley
Get the complete recipe for Instant Pot or Slow Cooker Italian Pulled Pork Ragu from Skinnytaste.
Still Hungry?
Click here to see all the Slow Cooker or Pressure Cooker Pork Recipes on this site!
(Visited 1,026 times, 1 visits today)