There's no need to get take out when you can make this delicious Pressure Cooker Orange Chicken in the pressure cooker or Instant Pot!
Click here to see Instant Pot Chicken and Rice Recipes for Easy Family Dinners!
Click here to see The Top 20 Instant Pot Chicken Dinners!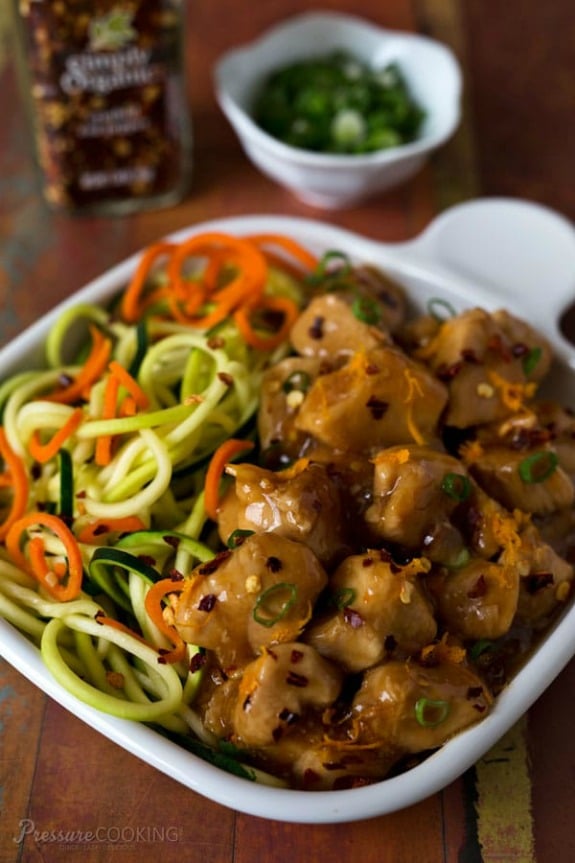 It's been an exciting day at my house because earlier the talented Jennette launched our new site and Slow Cooker from Scratch officially became Slow Cooker or Pressure Cooker. We also switched to WordPress, so the new site will have more functionality and some new features. So many people helped with the site that I'm not going to try to thank them all, but besides Jennette I do want to mention my brother Rand who did the graphics and logos. Our goal with this new design is to give you options for both the slow cooker or the pressure cooker whenever we can; I hope that will be useful!
Now let's talk about this delicious recipe from my friend Barbara, who generously came to my house today and gave me some WordPress coaching or I might never have figured out how to write a post with the new blogging platform! There's no doubt that Orange Chicken is one of the most-common and most-loved Chinese American restaurant dishes, so why not make this beloved recipe at home in your pressure cooker? And Barbara from Pressure Cooker today tells me this Pressure Cooker Orange Chicken is one of the most popular recipes on her site and her family loves it, so you know it's good!
And you can make this tasty chicken in any Electric Pressure Cooker or in the Instant Pot. See below for a link to a Slow Cooker version of Orange Chicken if you prefer that method! Barbara served this with zucchini noodles, which is a fun idea, but you could also use rice or cauliflower rice. And this recipe would work well for another idea for Kid-Friendly Instant Pot Recipes too, don't you agree?
Ingredients for this Pressure Cooker / Instant Pot Recipe:
boneless skinless chicken breasts, diced
soy sauce
water
brown sugar
rice wine vinegar
sesame oil
chili garlic sauce
orange marmalade
cornstarch
green onions, chopped, optional
red pepper flakes, optional
Get the complete recipe for Pressure Cooker Orange Chicken from Pressure Cooking Today.
Try Slow Cooker Crispy Orange Chicken from Slow Cooker Gourmet if you prefer the slow cooker.
Still Hungry?
Check out The BEST Instant Pot or Slow Cooker Teriyaki Chicken Recipes!
(Visited 629 times, 1 visits today)