This delicious Pumpkin Chili with Ground Beef can be made in the slow cooker or the Instant Pot, and you'll make this over and over.
Go right to the recipe for Pumpkin Chili at Kalyn's Kitchen!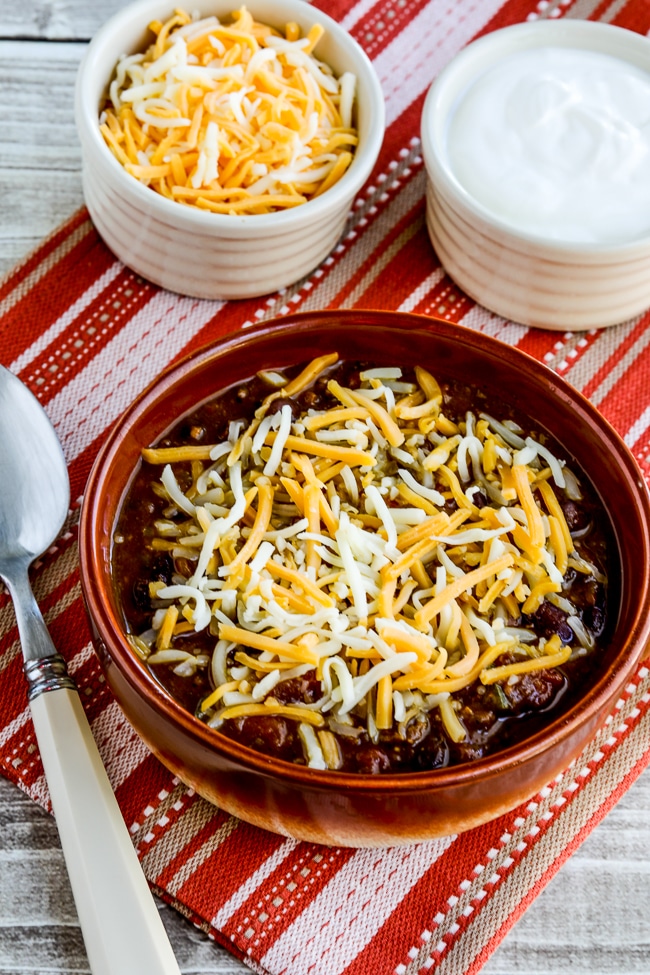 This Pumpkin Chili with Ground Beef from Kalyn's Kitchen has been a popular slow cooker recipe on my site for years, my nephew Matt and his wife Lindy  even won a chili-making contest with the recipe! So not long ago I decided I had to make an Instant Pot version of this much-loved pumpkin chili. Now you can get your pumpkin on with some pumpkin chili using whichever cooking method you prefer!
This chili has canned pumpkin which adds sweetness, but not an overwhelming pumpkin flavor to the chili. And there are a lot of Mexican seasonings that really add flavor, but use the ones you have if you don't have everything I used. And as you can tell, in my family we love this chili with grated cheese and sour cream added at the table, but take your choice on that.
What ingredients do you need for this recipe?
olive oil
 ground beef
 salt and fresh ground black pepper, to season meat
 onion,
 green bell pepper
Minced Garlic (affiliate link)
ground cumin (affiliate link)
 chili powder (see notes)
ground Ancho chile (affiliate link) or use a little more chili powder if you don't have this
dried cilantro (affiliate link) optional
 dried oregano
Spike Seasoning (affiliate link) or other all-purpose seasoning blend
diced green chiles (affiliate link)
beef stock or canned beef broth
 canned red kidney beans
 canned black beans
Pumpkin Puree (affiliate link)
 canned petite diced tomatoes with juice
Why is this recipe a favorite for me?
I'm definitely NOT the world's biggest pumpkin fan, so I like that this chili has just a touch of sweetness from the pumpkin. But what really makes this a favorite for me is all the memories of people in my family who have made the recipe and enjoyed it through the years.
More Slow Cooker and Instant Pot Ideas from Kalyn's Kitchen:
Use From Kalyn's Kitchen to find other slow cooker and Instant Pot recipes that have been featured on this site!
Get this recipe on Kalyn's Kitchen:
Get the complete Slow Cooker or Instant Pot recipe for Pumpkin Chili with Ground Beef at Kalyn's Kitchen! I hope you like the recipe as much as my family does!
(Visited 316 times, 1 visits today)