Try this Slow Cooker Carne Asada for a deliciously easy summer taco party with friends or family; this is sure to be a hit!
Click here for Four Fabulous Recipes for Southwestern Beef (Slow Cooker or Pressure Cooker)!
Click here to see The BEST Instant Pot Mexican Food Recipes!
Slow Cooker Carne Asada from Slow Cooker Gourmet sounds like a great idea for summer! And I think Slow Cooker Carne Asada  is the perfect place to start for a summer taco party!  This is a simple recipe that makes a perfect shredded beef filling for tacos, and a taco bar on a warm summer evening would be easy to host and fun for all involved.
Just combine flank steak with lime and orange juice plus a few spices (most of which you probably have in your pantry). Let it simmer in the slow cooker all day while you do other things. It will smell divine and none of your guests will believe it was so easy to make! Offer a few simple toppings like salsa, guacamole ,and cheese, and  let everyone dish up their favorites. I'm thinking this will be a real crowd pleaser. And the Carne Asada is deliciously low in carbs since you're only eating the small amount of marinade that cling to the meat, so if you serve with low-carb tortillas, this can be a tasty low-carb meal.
Ingredients for this CrockPot Recipe:
flank steak
olive oil
orange juice
lime juice
minced garlic
cilantro
chili powder
cumin
honey
Get the Complete Recipe for Slow Cooker Carne Asada from Slow Cooker Gourmet.
Recommended Slow Cooker Size:
Jennifer used the Crock-Pot Casserole Crock Slow Cooker but she says any slow cooker can be used as long as the beef is covered with sauce while cooking.
Still Hungry?
Check out all the Slow Cooker or Pressure Cooker Summer Dinners Recipes!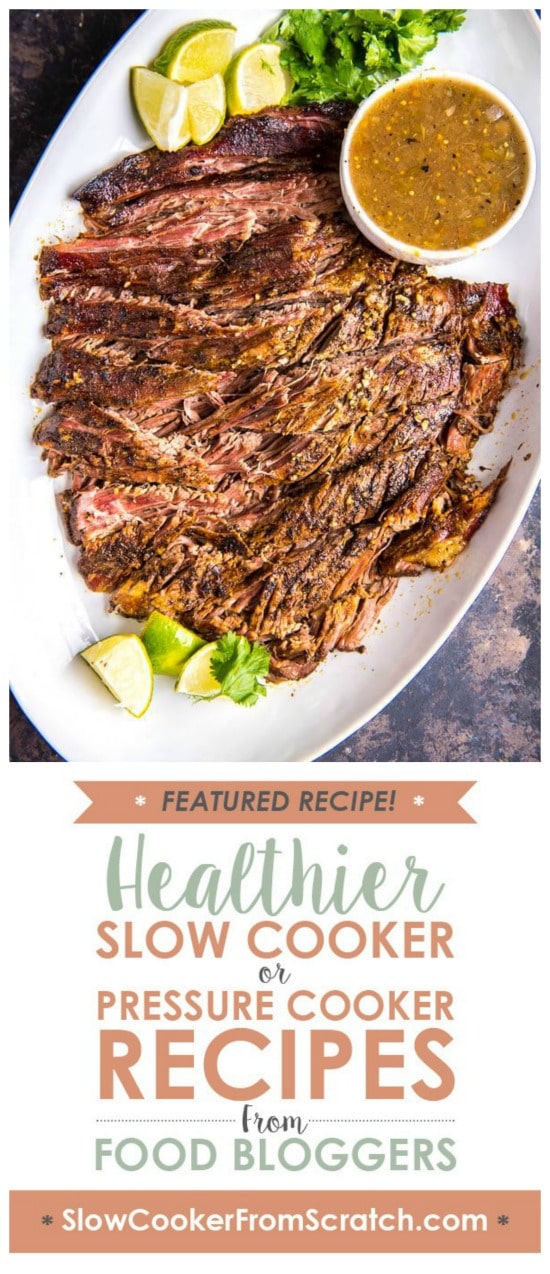 (Visited 3,534 times, 1 visits today)