This Slow Cooker Chicken-Andouille Stew was inspired by gluten-free chicken Andouille sausage I found at Costco and this was so tasty!
Click to see 50 Amazing Instant Pot One-Pot Meals!
Click to see Instant Pot Chicken and Rice Recipes for Easy Family Dinners!
It's December, and you may be feeling the need for a little comfort food!  If so, I can highly recommend this Slow Cooker Chicken-Andouille Stew that I shared over on Kalyn's Kitchen. This stew is slightly spicy and creamy and tastes wonderful served over rice and noodles.
There are a few steps to get this into the slow cooker, but then it cooks 4-6 hours on low while you're doing other things.  And when you take your first bite, I promise you won't mind that it was a little bit of work.
Ingredients for Slow Cooker Chicken-Andouille Stew:
boneless-skinless chicken breasts
chicken Andouille sausage
roasted red pepper from a jar
onion
olive oil
minced garlic
dried oregano
Tony Chachere's Creole Seasoning (or use your favorite brand)
chicken stock or broth
reduced-fat cream cheese
sliced green onion (optional)
cooked rice for serving (optional)
Get complete instructions for Slow Cooker Chicken-Andouille Stew at Kalyn's Kitchen.
Recommended Slow Cooker Size:
I used a Crock-Pot 3-1/2-Quart Slow Cooker for this recipe, but it could have been a little smaller.
More Slow Cooker Recipes from Kalyn's Kitchen:
Italian Sausage and White Beans with Sage from Kalyn's Kitchen
Mediterranean Beef Stew with Rosemary and Balsamic Vinegar from Kalyn's Kitchen
More Ideas with Sausage in the CrockPot or Instant Pot:
Use the Index Page for Sausage and Meatballs to see all the slow cooker and pressure cooker sausage recipes that have been featured on this site.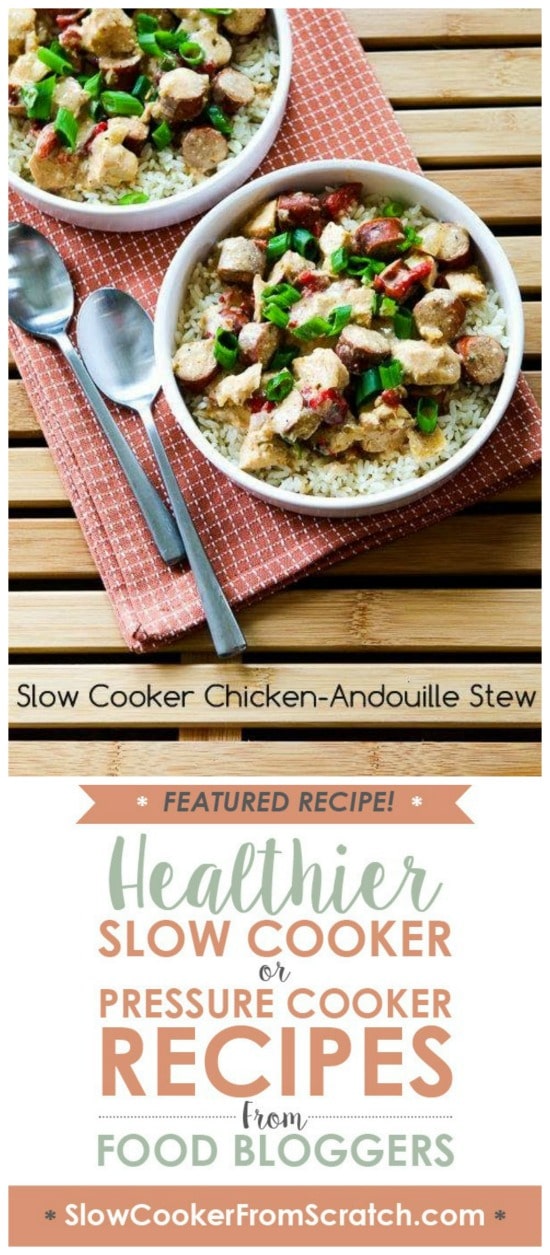 (Visited 222 times, 1 visits today)