Slow Cooker Chicken Minestrone Soup is loaded with vegetables, chicken, and beans which cook entirely in the slow cooker. Use the Recipes-by-Photo Index Page for Soup or Stew to see all the recipes soup that have been featured on this site.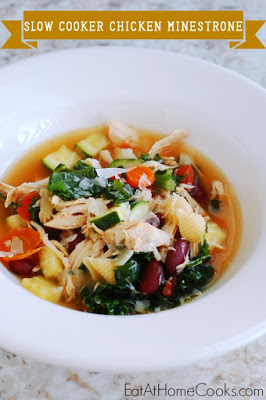 (Photos from Eat At Home)
This Slow Cooker Chicken Minestrone Soup from Eat At Home is an easy to put together soup for a healthy meal on a hectic day. No pre-cooking meat required. It is made from scratch and cooks all day while you are busy with other things, and I think this sounds like a delicious soup. I love the addition of Parmesan cheese at the table!
Ingredients for this CrockPot Recipe:
bone-in chicken breast
onion
garlic cloves
diced tomatoes
chicken broth
dark, red kidney beans
carrots
zucchini
shell pasta
kale
salt
pepper
Parmesan cheese for adding at the table
More Slow Cooker Recipes from Eat At Home Cooks:
Slow Cooker Beef Shwarma
CrockPot Lemon Chicken Baked on a bed of Sauerkraut
More Ideas for Soup in the CrockPot:
(Visited 238 times, 1 visits today)