Chicken Tostadas are a great dinner idea any time of year and you can make the tasty chicken in the slow cooker or the pressure cooker. We're giving you three variations for tasty Chicken Tostadas; check them out and see which one looks best to you!
Click here to PIN Three Terrific Recipes for Chicken Tostadas!
Click here to see The Top 20 Instant Pot Chicken Dinners!
We're going to change things up a bit around here for the weekly Taco Tuesday and Friday Favorites posts where we spotlight favorite recipes. There are so many amazing slow cooker and Instant Pot recipes popping up all the time, so from now on we're going to feature several recipes ideas in each of those weekly  posts, starting with this mini-round-up of Three Terrific Recipes for Chicken Tostadas! And we're moving the Taco Tuesday posts to Monday, so you can get an idea to make for Tuesday night dinner. Hopefully the new format will make those posts even more useful for anyone looking for dinner ideas; enjoy!
Chicken Tostadas are are such a tasty and versatile idea for dinner, and we're updating this post to give you several ideas and the option for slow cooker or pressure cooker chicken tostadas as well. Use the cooking method you prefer, and pick the recipe that looks best, but make some chicken tostadas for dinner soon!
All photos are copyrighted to the site that posted the recipe. Just click the recipe name under any photo to see the complete recipe on that site.
I'm drooling over these Slow Cooker Chicken Tostadas from Taste and Tell!  Boneless skinless chicken breasts go in the slow cooker with a little lime juice, a tiny bit of oil, garlic, and some Mexican seasonings and they cook on low for until the meat shreds apart easily. Then you assemble chicken tostadas with your choice of toppings.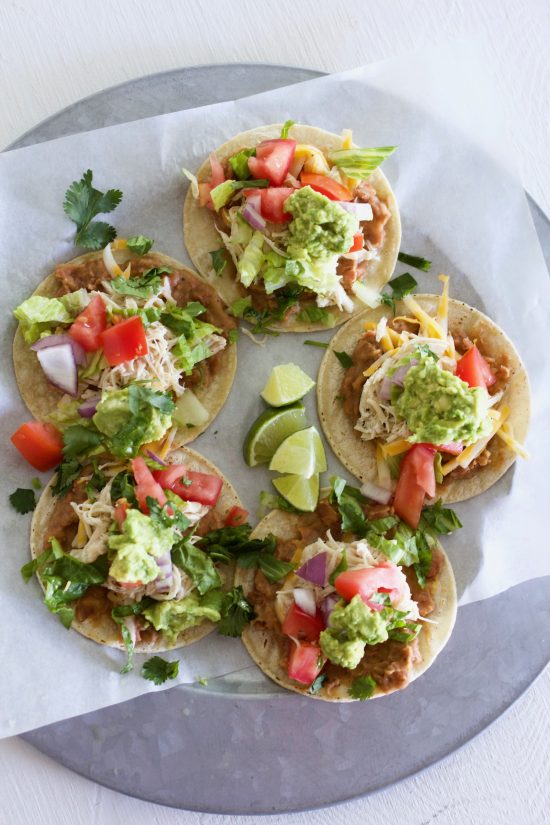 For Instant Pot fans, these Family Style Chicken Tostadas from a Bountiful Kitchen start with frozen chicken cooked in the Instant Pot. You add other toppings that you enjoy, and the recipe gives other cooking methods as well!
And for a think-outside-the-box version of chicken tostadas, how about these Slow Cooker Barbecue Chicken Tostadas with Cole Slaw from Bev Cooks? I think that looks like another amazing dinner idea.
More Tasty Chicken in the Slow Cooker or Instant Pot:
Use the Index Page for Chicken to see all the slow cooker or pressure cooker chicken recipes that have been featured on this site.
(Visited 1,775 times, 1 visits today)