Slow Cooker Chole or Indian Spiced Chickpea Stew is a slow cooker meal that's hearty enough to satisfy everyone!
Click here to see all the Beans and Legumes Recipes!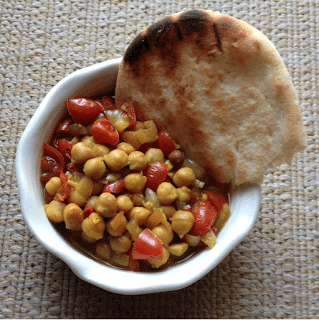 (Photo by Letter Blocks Say What?)
Zach and Mindy are a couple where Mindy is a fan of vegetarian meals and Zach sometimes needs a little coaxing to give up the meat, but this Slow Cooker Indian Spiced Chickpea Stew (Chole) from their blog Letter Blocks Say What was hearty enough to please them both. Start with canned or pre-cooked chickpeas (garbanzo beans), add chopped onion, garlic, ginger, Indian spices, diced tomatoes, diced bell peppers, and some vegetable stock and cook on low all day and your Meatless Monday dinner is ready!
More Ideas with Chickpeas in the Slow Cooker:
Use the Recipe-by-Photo Index Page for Beans and Legumes to see all the slow cooker recipes with chickpeas that have been featured on this site.