Slow Cooker Filipino Adobo Pulled Pork has all the traditional Adobo flavors and if you want a low-carb option just eat this tasty pork over cauliflower rice!
Click here for 50 Great Low-Carb Slow Cooker Dinners!
Click here to see 50 AMAZING Low-Carb Instant Pot Dinners!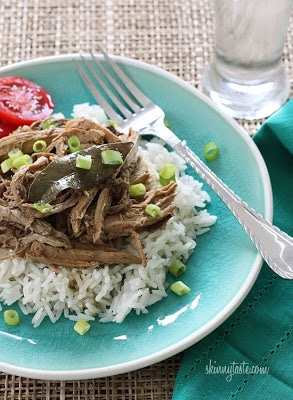 For Friday Favorites we feature past recipes you may have missed, and this Slow Cooker Filipino Adobo Pulled Pork from Skinnytaste sounds delicious. I'd love this over cauliflower rice with lots of extra green onions for me, please!
In the Phillipines, the national dish is Chicken or Pork Adobo, and this Slow Cooker Filipino Pulled Pork has all the flavors of soy sauce, vinegar, garlic, and bay leaves that Adobo dishes are famous for.  Gina served this over rice, but I think it would also be delicious wrapped inside a tortilla or piled on to a bun, or eat the meat in lettuce wraps or over cauliflower rice for a low-carb option!
Ingredients for Filipino Adobo Pulled Pork:
Lean pork center loin
low sodium soy sauce
apple cider vinegar
water
garlic
peppercorns
bay leaves
jalapeno (optional)
scallions for garnish
Get the complete recipe for Filipino Pulled Pork from Skinnytaste.
More Slow Cooker Recipes from Skinnytaste:
Crock Pot Buffalo Chicken Lettuce Wraps from Skinnytaste
Carne Guisado (Latin Beef Stew) from Skinnytaste
More Ideas with Pork in the Slow Cooker or Pressure Cooker:
Check the Index Page for Pork to see all the slow cooker or pressure cooker pork recipes featured on this site.
(Visited 541 times, 1 visits today)