Slow Cooker French Dip Sandwiches get even better with onions and sauteed bell peppers! I bet this will be a hit with most families.
Click here to see The BEST Slow Cooker Barbecued Beef Sandwiches with Homemade Sauce!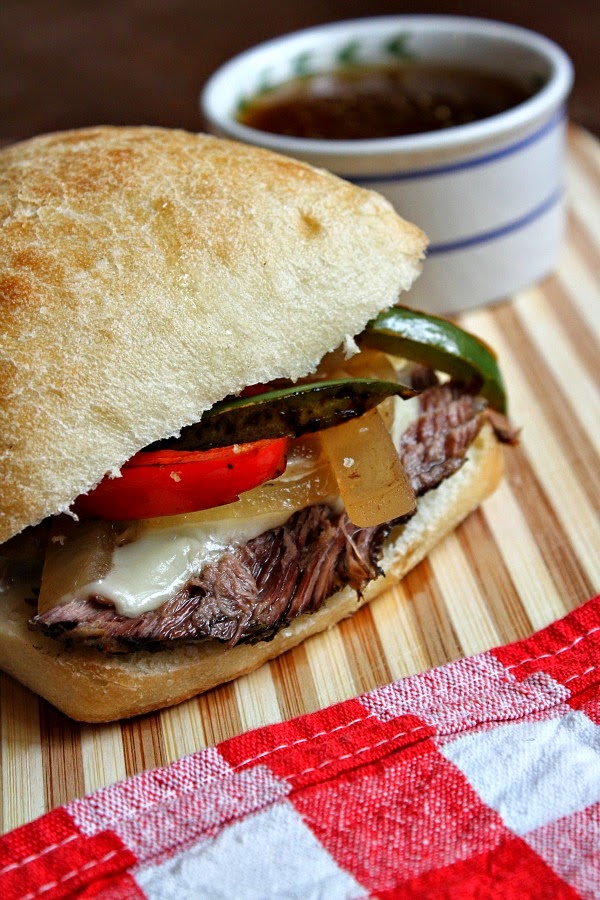 (Photos from Recipe Girl.)
(For Friday Favorites we spotlight recipes from the past that you might have missed, and these cheesy Slow Cooker French Dip Sandwiches from Recipe Girl sound like a family slow cooker meal you'll want to make over and over.)
French Dip Sandwiches are a classic slow cooker meal, and who doesn't love juicy beef piled onto a crispy roll and then dipped into flavorful au jus?  This
Slow Cooker French Dip Sandwich
from Recipe Girl has all those classic flavor notes, and then Lori kicks it up a notch by adding onions that have cooked with the meat, sauteed red and green bell peppers, and cheese.  This would make a wonderful
Slow Cooker Summer Dinner
, but this sandwich is also perfect for football season!
Ingredients for this CrockPot Recipe:
sweet onion
beef brisket or boneless beef bottom round
extra-virgin olive oil
garlic
Italian seasoning
black pepper
kosher salt
low-sodium beef broth
water
Worcestershire sauce
red bell pepper
green bell pepper
sliced cheese
sandwich rolls
Get complete instructions for Slow Cooker French Dip Sandwich from Recipe Girl.
More Slow Cooker Recipes from Recipe Girl:
Chicken Parmigiana Meatloaf from Recipe Girl

More Ideas with Beef in the Slow Cooker:
Use the Recipe-by-Photo Index Page for Beef to see all the slow cooker beef recipes that have been featured on this site.