Super Easy Slow Cooker Hawaiian Meatballs are great for a meal that makes you think you're in the islands. 
Click here to see The Top Ten Slow Cooker Recipes for Meatballs!
Click here to see The BEST Instant Pot Recipes for Meatballs!
Slow Cooker Hawaiian Meatballs from Recipe Girl features delicious meatballs in a sweet and tangy pineapple sauce. Imagine a simmered sauce poured over bell peppers, pineapple and meatballs, that fills your home with an enticing aroma reminiscent of the Islands.
Pre-baking the meatballs and simmering the sauce to thicken it before it goes into the slow cooker produces a culinary win-win, and after that the meatballs and veggies cook unattended while you're busy doing something else. I think I want this on my dinner table soon!
Ingredients for this CrockPot Recipe:
egg
ground beef
saltine crackers
dried minced onion
milk
salt and pepper
garlic powder
ground ginger
onion powder
pineapple chunks
brown sugar
ketchup
white vinegar
Asian sweet chili sauce
soy sauce
Sriracha/Asian hot chili sauce
cornstarch
red bell pepper
green bell pepper
Get the complete recipe for Slow Cooker Hawaiian Meatballs from Recipe Girl.
More Slow Cooker Recipes from Recipe Girl:
Slow Cooker French Dip Sandwiches
Slow Cooker Chicken Parmigiana Meatloaf
More Ideas for meatballs in the CrockPot or Instant Pot:
Click to see all the Slow Cooker or Pressure Cooker Sausage and Meatballs Recipes on this site!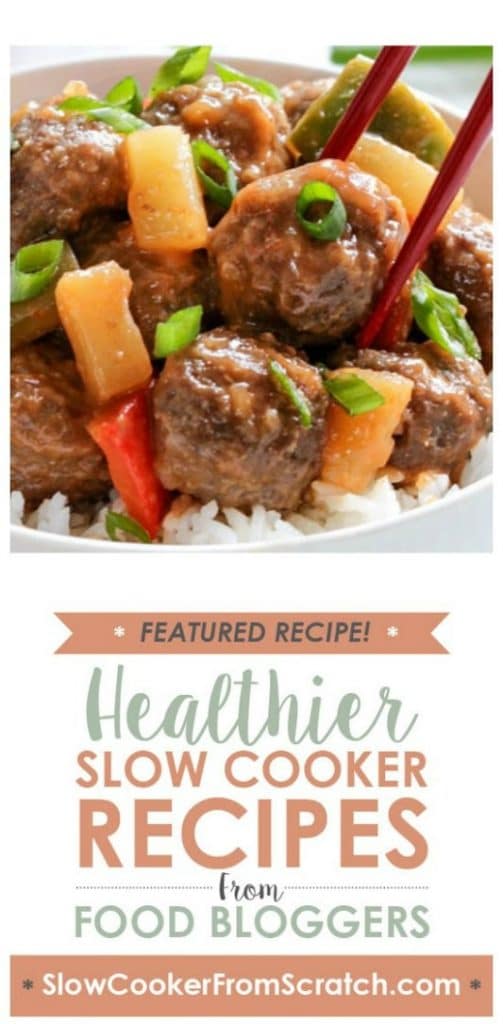 (Visited 261 times, 1 visits today)