Slow Cooker Lasagna Soup is a great idea for family dinner and this tasty soup is extra easy for this busy time of year.
Click here to see The Top Ten Cook-All-Day Slow Cooker Soups!
Click here to see The Best Instant Pot Soup Recipes!
I'm guessing during the holidays everyone can use a good soup recipe that's easy to get in the slow cooker and cooks all day on low, and this Slow Cooker Lasagna Soup from Real Mom Kitchen sounds delicious and comforting. Just slice up Italian sausage (no browning needed) and let it cook all day with chicken stock, tomatoes, tomato paste, and seasonings, then 30 minutes before you're ready to eat add the pasta.
I love the trick of using oven-safe bowls to broil the ricotta and mozzarella that's added at the end, but if you don't have bowls that will go under the broiler the hot soup will melt the cheese.
Ingredients for Slow Cooker Lasagna Soup :
Italian sausage
onions
minced garlic
dried oregano
red pepper flakes
tomato paste
petite dice tomatoes
bay leaves
chicken broth
salt and pepper
rotini pasta (or similar shape)
Ricotta cheese
shredded Mozzarella cheese
Get the complete recipe for Slow Cooker Lasagna Soup from Real Mom Kitchen.
More Ideas with Soup in the Slow Cooker or Pressure Cooker:
Use the Index Page for Soup or Stew to see all the slow cooker or pressure cooker soup recipes that have been featured on this site.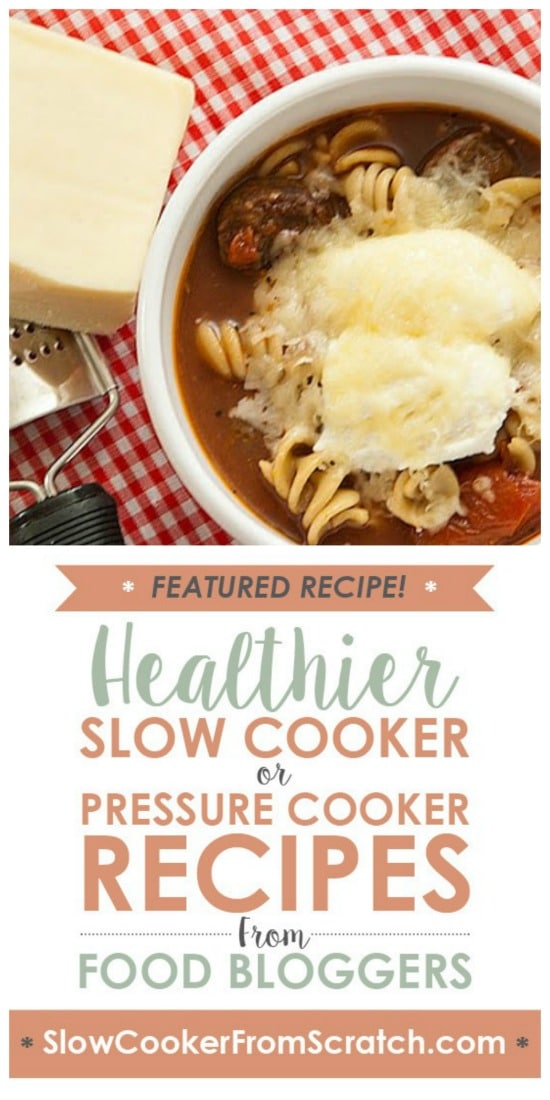 (Visited 309 times, 1 visits today)