Osso Buco, made in the slow cooker!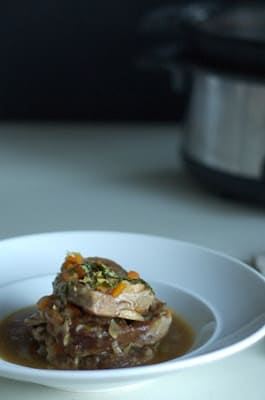 (Photo from Winos and Foodies.)
(Edit: Barbara from Winos and Foodies lost her battle with breast cancer in 2012. I am dedicating this post to her memory; she was someone I always hoped to meet in person and I had enjoyed "knowing" her online since 2005. She will be greatly missed.)
For anyone who's not familiar with it, Osso Buco is a classic Italian dish made with veal shanks braised in white wine and often served with risotto. It's something I've never tried to make at home, so I was intrigued by this recipe for Osso Buco Bianco from Winos and Foodies. Barbara is in Australia, but she gives the U.S. measurements for ingredients as well as the metric ones, and this looks like a great dish to try for a special occasion.
More Ideas with Beef in the Slow Cooker:
Use the Recipe-by-Photo Index Page for Beef to see all the slow cooker beef recipes that have been featured on this site.
(Visited 79 times, 1 visits today)