Use a slow cooker to simmer the broth and then make the Vietnamese noodle soup called Pho to warm your tummy!
Click here to see The BEST Instant Pot Korean Beef Recipes!
Click here to see 50 Amazing Low-Carb Instant Pot Soup Recipes!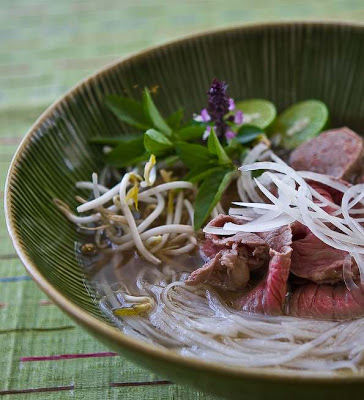 The Vietnamese noodle soup called Pho (pronounced fuh) is a classic Asian dish that's now a hit in Vietnamese restaurants all over the world.  The long-simmered broth seasoned with Asian spices is what makes this soup unique, and in this recipe for Slow Cooker Beef Pho from Steamy Kitchen Jaden has discovered that using a large-size CrockPot to make the broth makes this dish much for accessible for the average home cook.
You'll still need to make a trip to the Asian market for some spices you probably don't have in the pantry, but if you're a lover of Pho I'm guessing you might also love this idea of making it at home.
Ingredients for this CrockPot Recipe:
beef bones
onion
ginger
Vietnamese Pho Spices
water
fish sauce
sugar
fresh or dried rice noodles
flank, london broil, sirloin or eye of round steak
Vietnamese beef balls
limes
cilantro
Thai basil
mint
chili peppers
bean sprouts
Hoisin sauce
Sriracha hot chili sauce
Get the complete recipe for Slow Cooker Beef Pho at Steamy Kitchen.
More Asian Dishes in the Slow Cooker or Pressure Cooker:
Use the Index Page for International Flavors to see all the slow cooker or pressure Cooker Asian recipes that have been featured on this site.
(Visited 2,116 times, 1 visits today)