Slow Cooker Poached Salmon sounds delicious for a summer dinner, and using the slow cooker will keep your kitchen cool. And this easy dinner idea is low-carb, dairy-free, and gluten-free and if you omit the wine it can also be Paleo.
Click Here to see 30 Amazing Instant Pot and Slow Cooker Summer Dinners!
Click to see 20 Amazing Slow Cooker Summer Dinners!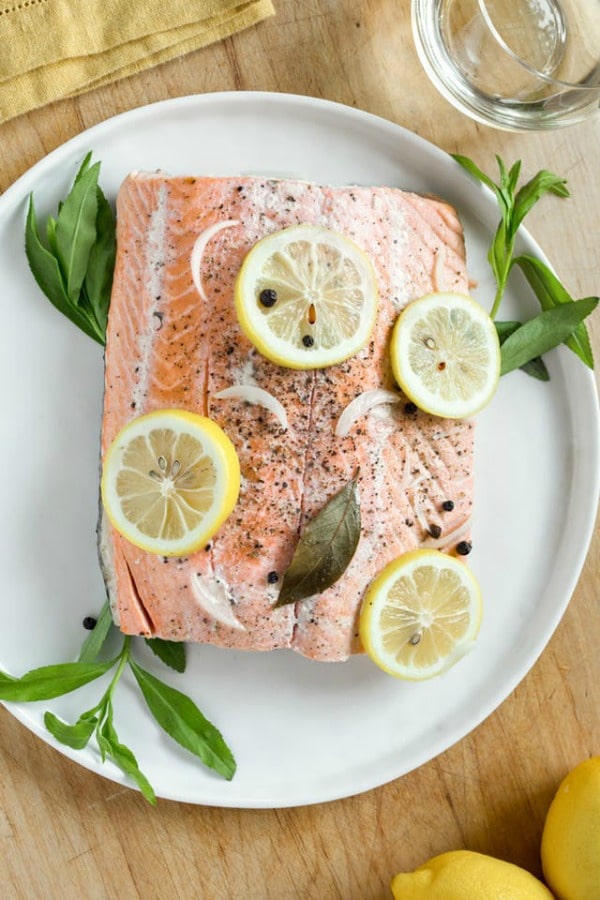 You might be thinking it seems odd to cook fish in a slow cooker, but if you've ever had amazing poached salmon in a restaurant you'll realize that this Slow Cooker Low-Carb Poached Salmon from The Kitchn makes a lot of sense.  Poaching salmon brings out the flavor and keeps the fish moist, and using the slow cooker means there is some free time for the cook.
You make the poaching liquid right in the slow cooker, and then add the fish to cook for an hour, or slightly longer if you prefer your fish more well done.  And if you're making this in the summer, using the slow cooker keeps the kitchen cool.  I'd eat this with some of my favorite Creamy Cucumber-Dill Sauce for Fish for a perfect Summer Dinner.
Ingredients for Slow Cooker Poached Salmon :
water
dry white wine
lemon
shallot
bayleaf
fresh herbs such as tarragon, dill, and/or Italian parsley
black peppercorns
kosher salt
skin-on salmon
kosher salt and freshly ground black pepper
for serving: lemon wedges, coarse sea salt, olive oil
Get the complete recipe for Slow Cooker Poached Salmon from The Kitchn.
More Slow Cooker Recipes from The Kitchn:
Slow Cooker Chicken Burrito Bowls from The Kitchn
Slow Cooker Overnight Oats with Honey and Fruit from The Kitchn
More Ideas For Summer Dinners in the CrockPot or Instant Pot:
Use the Index for Summer Dinners to see all the slow cooker or pressure cooker summer dinner ideas that have been featured on this site.
(Visited 283 times, 1 visits today)