For a special occasion, this pot roast with red wine and brandy sounds delicious! Use the Recipe-by-Photo Index Page for Beef to see all the slow cooker beef recipes that have been featured on this site.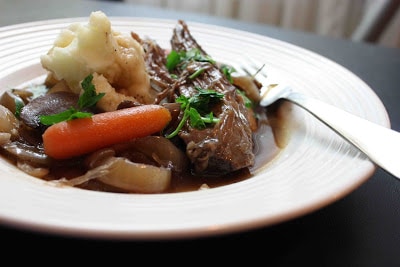 (Photo from Tasty Eats at Home.)
(For
Friday Favorites
we spotlight past recipes that you may have missed, and this tasty version of pot roast sounds like a winner for this time of year when storms are still covering so many places with snow!)
Pot roast is one of those dishes that cook perfectly in a slow cooker, and this Slow Cooker Pot Roast with Red Wine and Brandy from Tasty Eats at Home sounds like it would make a great meal for a special occasion. In this recipe the meat is browned and then cooked on low for 6-8 hours with potatoes, carrots, onions, garlic, mushrooms, red wine, brandy, and some herbs.
(Visited 304 times, 1 visits today)