Amazing Indian Butter Chicken made in the CrockPot.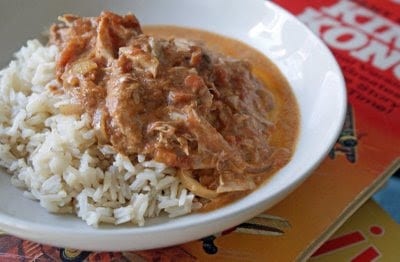 (Photo from Dinner with Julie.)
(For
Friday Favorites
we spotlight past recipes that you may have missed, and this Better Butter Chicken from Dinner with Julie sounds like a winner to me!)
Everyone who loves Indian food is familiar with this dish, and just one read through the recipe for this Better Butter Chicken in the Crockpot from Dinner with Julie convinced me that Julie's version would taste great. You can use bone-in or boneless chicken legs and thighs; just put them in the slow cooker with onion, ginger, garlic, tomato paste, and spices, stir in some plain yogurt and cream or half and half when the chicken is done, and serve over rice for a tasty dinner.
Ingredients for this Slow Cooker Recipe:
skinless, boneless chicken thighs and drumsticks
onion
ginger
garlic
chili powder
curry paste or powder
cinnamon
canned diced tomatoes
garam masala
plain yogurt
half and half or whipping cream
salt and pepper
steamed brown basmati rice for serving
More Slow Cooker Chicken Dinners:
Scroll through the Recipes by Photo Chicken Recipes to see all the slow cooker chicken recipes featured on this site.
(Visited 101 times, 1 visits today)