This Slow Cooker Sausage, Beans, and Greens might not win any beauty contests, but it will win over your tastebuds. Use the Recipe-by-Photo Index Page for Beans and Legumes to see all the Slow Cooker Bean Recipes that have been featured on this site.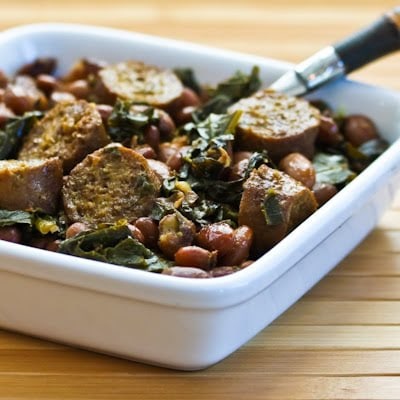 (Photo from Kalyn's Kitchen.)
(For
Friday Favorites
we spotlight past recipes that you may have missed, and I love all the flavors in this healthy and delicious slow cooker favorite of mine with sausage, beans, and greens. Today's the first day of spring but nights are still cool, so I think this sounds like a perfect dish for this time of year.)
This dish is one of those ugly-but-delicious recipes that so many people associate with slow cooker meals, and although it may not be overly colorful, this recipe for Slow Cooker Sausage, Greens, and Beans from Kalyn's Kitchen is one of my all-time favorite slow cooker recipes. I start with soaked, dried beans that I cook on the stove (substitute one can of beans if you prefer.) Put the barely cooked beans into the slow cooker with a little bit of cooking water, well-browned sausage, and collard greens, or other greens of your choice. Cook for a few hours on high or a little longer on low and you'll have a delicious meal that only gets better if it's reheated as leftovers!
Ingredients for this CrockPot Recipe:
Fresh-cooked or canned beans
garlic powder
onion powder
hot turkey or pork Italian sausage
oil
collard greens
bean cooking liquid or liquid from canned beans
garlic
For serving: Parmesan cheese if desired
Get the complete recipe for Slow Cooker Sausage, Greens, and Beans
from Kalyn's Kitchen.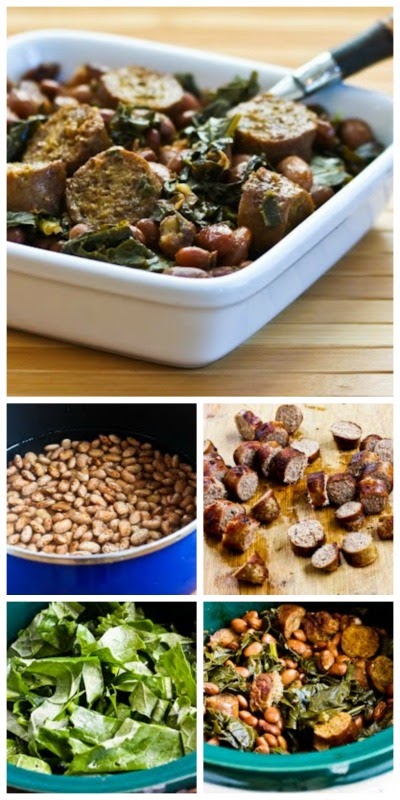 (Visited 294 times, 1 visits today)