Slow Cooker Spicy Barbacoa Beef, made into soft tacos with guacamole and corn; don't you think these tacos look amazing? I bet these would be a big hit with the family on Taco Tuesday!
Click for 20 Amazing Recipes for Instant Pot or Slow Cooker
Shredded Beef, Chicken, or Pork
Click for The BEST Instant Pot or Pressure Cooker Pork Carnitas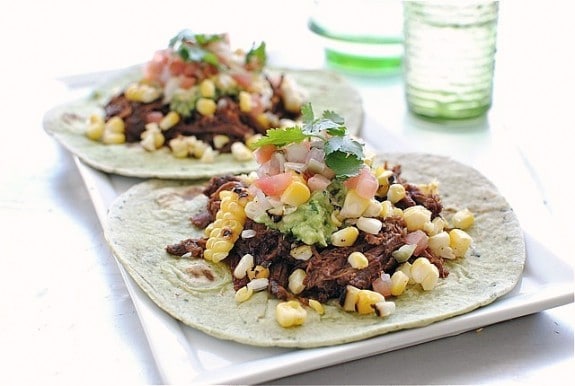 These Spicy Barbacoa Soft Tacos from Bev Cooks are a perfect dish for this time of year when you never know what the weather will be doing! I love the endless varieties of shredded meat taco-ish concoctions you can make with the slow cooker, and when I saw this particular version of Spicy Barbacoa Soft Tacos from Bev Cooks, I knew this was a recipe that a lot of you would enjoy.
The beef cooks with with chipotle peppers in adobo sauce, cumin, chili powder, onion powder, garlic powder and Mexican oregano, so these tacos have lots of flavor going on. Then serve with your choice of tortillas or toppings for a delicious Taco Tueday meal!
Ingredients for this Slow Cooker Recipe:
beef chuck roast
canned chipotle peppers in Adobo sauce
cumin
chili powder
onion powder
garlic powder
Mexican oregano
flour tortillas
fresh salsa
corn
butter
garlic salt
avocado
cilantro
lime juice
coarse salt and fresh ground pepper
Get the complete recipe for Slow Cooker Spicy Barbacoa Soft Tacos from Bev Cooks.
Still Hungry?
Check out all the slow cooker or pressure cooker Beef recipes that have been featured on this site.
(Visited 277 times, 1 visits today)