These Spicy Sweet Potatoes made in the slow cooker are a delicious easy side dish any time of year, and of course they'd be perfect for Thanksgiving too! This is a perfect recipe for the Crock-Pot Casserole Crock Slow Cooker, but you can make it in a large oval slow cooker if that's what you have.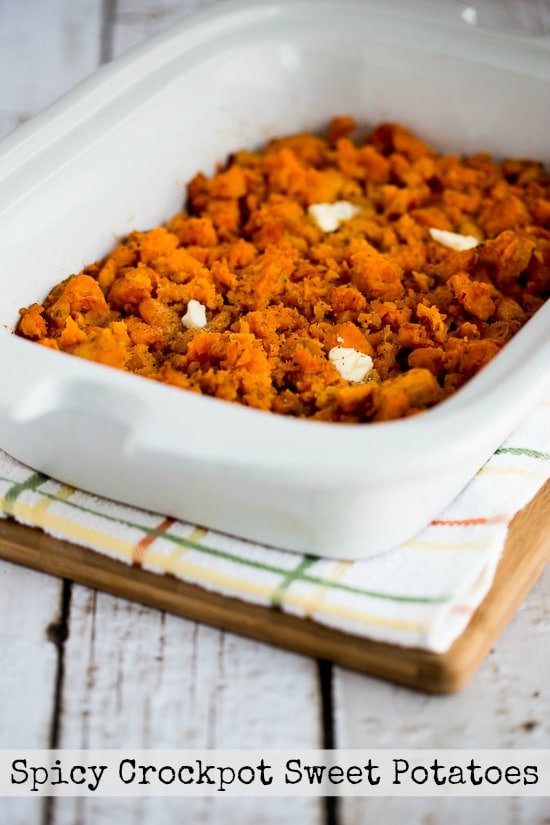 When I discovered a seasoning blend I adored for Spicy Sweet Potato Fries, I couldn't resist trying it on sweet potatoes cooked in the slow cooker, and this recipe for Spicy Crockpot Sweet Potatoes from Kalyn's Kitchen is the happy result. If you cook them on high the sweet potatoes will be fragrant and tender in about 3 hours, and you can keep them warm in the slow cooker for a while if needed, so they're great for busy days.
Casserole Crock Saturdays
is all about discovering more and more ways to use the
Crock-Pot Casserole Crock Slow Cooker
, and this recipe is a perfect example of that. I first made these Slow Cooker Spicy Sweet Potatoes years ago in a smaller slow cooker and loved them, but when I got the Casserole Crock, I had to try it for this well-loved sweet potato recipe!
I made the sweet potatoes you see in the photos above in the new
Crock-Pot Casserole Crock Slow Cooker
, which worked especially well because we browned them in a very hot oven for about 20 minutes after they were done.
And if you like sweet potatoes at all, this is a must-try recipe! Please don't skip it because you have to buy some of the ingredients in the spice mix, because I promise that once you try this spice blend for sweet potatoes, you'll make them using it over and over. And be sure to try it on
Spicy Sweet Potato Fries
as well!
Ingredients for this Slow Cooker Recipe:
orange-fleshed sweet potatoes (often called yams or sweet yams in U.S. grocery stores)
olive oil
sweet potato spice mix (recipe included; a mix of ground coriander, ground fennel, dried oregano, Aleppo or Cayenne pepper, kosher salt)
fresh ground black pepper
sea salt
butter
Get the complete recipe for Spicy CrockPot Sweet Potatoes
from Kalyn's Kitchen.
Suggested Slow Cooker Size:
I made these spicy sweet potatoes in the Crock-Pot Casserole Crock Slow Cooker but you can also make them in a large oval slow cooker if that's what you have!
More Ideas for Vegetables in the Slow Cooker:
Use the Recipe-by-Photo Index Page for Vegetables to see all the slow cooker vegetable recipes that have been featured on this site.