These Slow Cooker Mexican Rice Bowls have brown rice, black beans, and bell peppers and they're topped with poblano-avocado salsa. And this is a vegan recipe from Kalyn's Kitchen that's loaded with amazing flavor!
Click Here to go right to the recipe on Kalyn's Kitchen!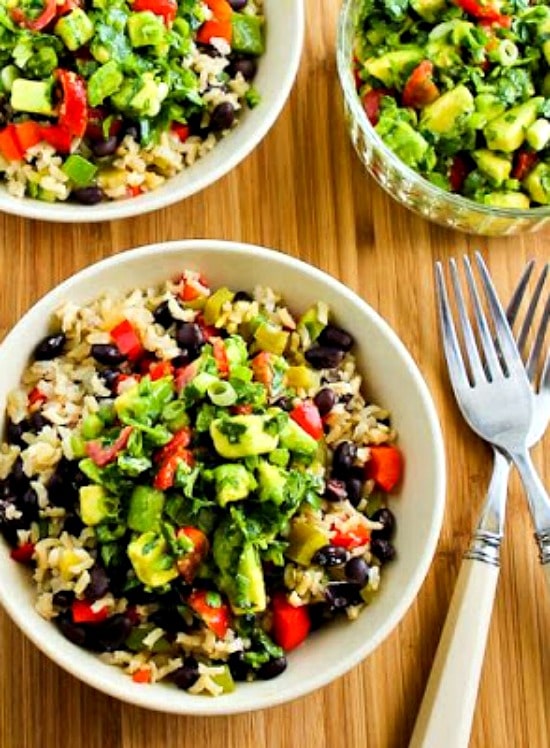 This recipe for Slow Cooker Mexican Rice Bowls is so delicious and perfect when you want a meal that cooks in a few hours in the slow cooker without heating up the house! I've made quite a few meatless dishes in the slow cooker, but this might be the best meatless slow cooker recipe I've made, and it's even vegan, for people who are interested in that!
For this easy rice bowl meal, brown rice and onions cook in the slow cooker until the rice is nearly done; then you add chopped red and green bell pepper, canned black beans, and diced green chiles and cook until the rice is tender. Serve the flavorful rice mixture with a topping of poblano-avocado salsa, for a delicious plant-based meal that's healthy and loaded with flavor.

What ingredients do you need for this recipe?
Why is this recipe a favorite for me?
These days a recipe like this that has both brown rice and black beans is definitely a splurge on carbs for me! And it's partly the Poblano-Avocado salsa that makes me like it so much. I'd probably eat mine with more salsa and less rice and beans, but take your choice on that.
Recommended Slow Cooker Size:
I used my favorite 3 Quart Crock-Pot Slow Cooker (affiliate link) for this recipe, but any slow cooker that's close to that size will work.
More Instant Pot and Slow Cooker Recipes from Kalyn's Kitchen:
Use From Kalyn's Kitchen to find my other slow cooker and Instant Pot recipes that have been featured on this site!
Get this recipe on Kalyn's Kitchen:
Get the complete recipe forSlow Cooker Mexican Rice Bowls from Kalyn's Kitchen.
More Slow Cooker and Instant Pot Mexican Bowls:
Check out Slow Cooker or Instant Pot Vegetarian Mexican Bowls or Instant Pot Burrito Bowls if you like the idea of a Mexican bowl meal!
(Visited 1,255 times, 1 visits today)