Vegan Lentil Soup cooks all day in the slow cooker.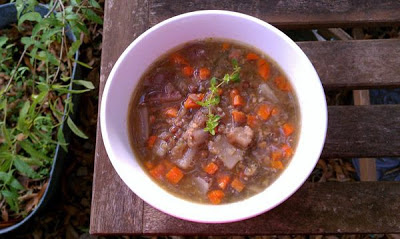 (Photo from Healthy Slow Cooking.)
Nothing sounds better than soup when it starts to get cold outside, and since Salt Lake City is currently buried in snow I'm thinking that
Slow Cooker Vegan Autumn Lentil Soup
from Healthy Slow Cooking would make a perfect
Meatless Monday
dinner. Lentils are one of my favorite soup ingredients, and I love soups like this that can cook all day when you're gone.
Kathy experimented with some colorful lentils and purple potatoes for this soup, but she says next time she would stick with the basics, making this an inexpensive soup as well.
More Ideas for Meatless Soups in the Slow Cooker:
Use the Recipe-by-Photo Index Page for Vegetarian to see all the slow cooker vegetarian recipes that have been featured on this site.