Tender Greek Pork looks delicious and can be served in flatbread, over rice, or to top off a salad. This recipe can work for the Instant Pot or slow cooker so everyone can choose the method they prefer! And doesn't everyone love pork with those Greek flavors?
Click Here to see The BEST Instant Pot Pork Carnitatas
Click for The Top 10 Unique and Amazing Slow Cooker Pulled Pork Sandwiches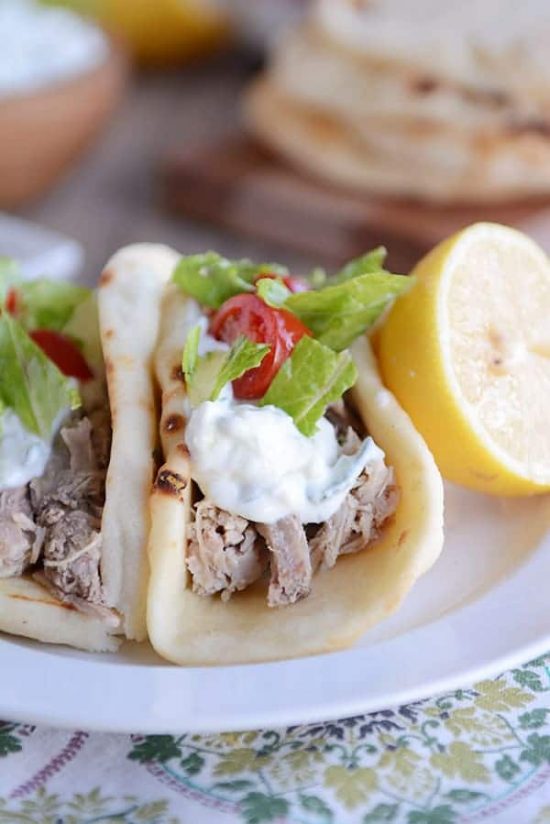 This Instant Pot Tender Greek Pork from Mel's Kitchen Cafe sounds delicious. It's flavorful, fall apart tender, and cooks in about an hour in the Instant Pot. With the combination of lemon, oregano, and garlic you get an irresistible greek flavor.  Add some homemade Tzatziki Sauce and this Instant Pot Tender Greek Pork just can't be beat!  And for an added bonus for this tasty Greek Pork Mel has included slow cooker directions if you prefer that method of cooking.
Ingredients for this Tender Greek Pork:
pork roast
chicken broth
lemon juice
oregano
onion powder
garlic powder (or garlic cloves)
kosher salt
black pepper
Get the complete recipe for Instant Pot Tender Greek Pork from Mel's Kitchen Cafe
Still Hungry?
Check out all the slow cooker or pressure cooker Pork Recipes on this site.
(Visited 524 times, 1 visits today)