Here are Slow Cooker or Instant Pot Creamed Corn Recipes; these recipes use frozen corn which makes them perfect for an easy side dish!
PIN Slow Cooker or Instant Pot Creamed Corn to try some later!
Creamed Corn for Thanksgiving is a tradition in many families, and there's no doubt that creamed corn is a delicious idea for a holiday side dish. And these Slow Cooker or Instant Pot Creamed Corn Recipes are so easy and tasty and the recipes use frozen corn so you can have this for a favorite side dish any time of year!
I bet creamed corn is going to be a popular side dish idea for most families! Would it be a hit on the Thanksgiving table at your house?
What is creamed corn?
Wikipedia says, "Creamed corn is a type of creamed vegetable dish made by combining pieces of whole sweetcorn with a soupy liquid of milky residue from pulped corn kernels scraped from the cob." Some creamed corn recipes take it a step farther by adding cream, sour cream, or butter to the corn when it's cooked.
How do you get the complete recipe?
Photos are copyrighted to the blog that posted the photo; just click the title under any photo to see the complete recipe on the original blog.
More Vegetable Recipes to Free Up Space on the Stove:
Use the Index Page for Vegetables to see all the Slow Cooker or Pressure Cooker Vegetable Recipes that have been featured on this site!
Want more Slow Cooker or Instant Pot Thanksgiving Recipes?
Check out 50+ Slow Cooker or Instant Pot Thanksgiving Recipes for lots more ideas to free up space on the stove or in the oven!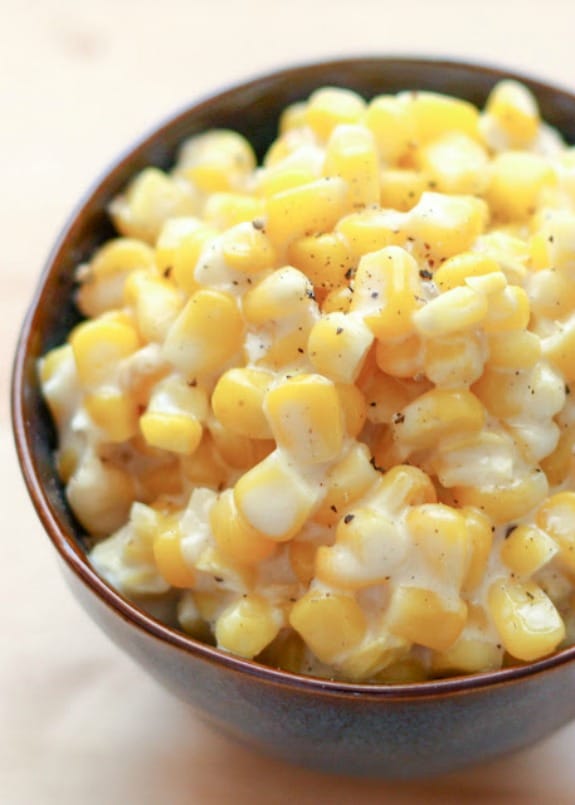 Mary from Barefeet in the Kitchen says this recipe for Rudy's Slow Cooker Creamed Corn was something she hadn't planned on for Thanksgiving last year, but once she made it, she just had to add it to the menu!  The recipe uses frozen corn,  and if you read the ingredients on her site I think you can imagine just how amazing this corn must be.
Pressure Cooker Creamed Corn from Kitschen Cat is an Instant Pot version of creamed corn that also uses frozen corn and has those creamy flavors you want in a Thanksgiving side dish!
Slow Cooker Creamed Corn from Dinner at the Zoo also uses frozen corn with creamy additions, and this version adds bacon and chives on top!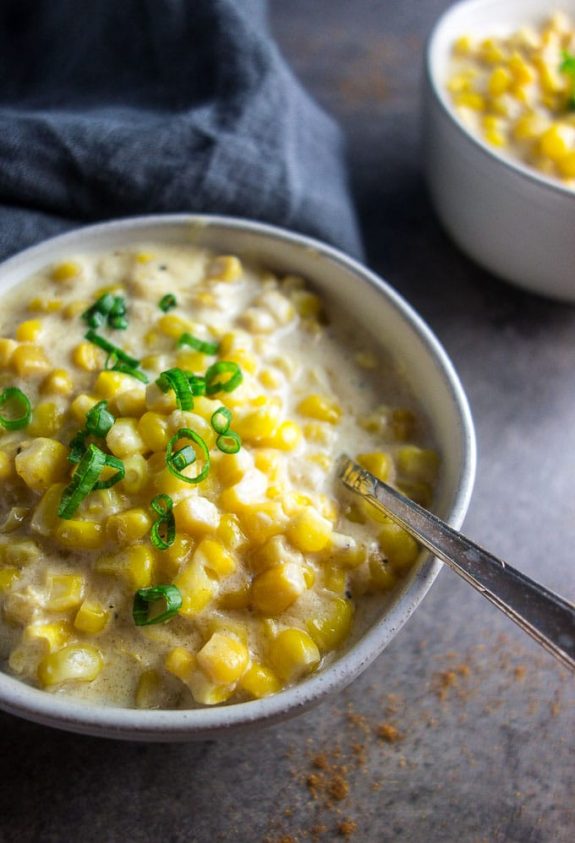 And one more delicious-sounding option is the Instant Pot Spicy Creamed Corn from Went Here 8 This, and this recipe can use fresh, frozen, or canned corn and adds a spicy twist to the other creamy ingredients!
(Visited 4,060 times, 1 visits today)