Slow Cooker Holiday Mashed Potatoes are perfect for Thanksgiving or Christmas, or any nice meal where you want a tasty potato side dish and you have other things cooking on the stove!
Click to see The Top Ten Recipes for Slow Cooker Mashed Potatoes!
Click here to see The BEST Instant Pot Potato Recipes!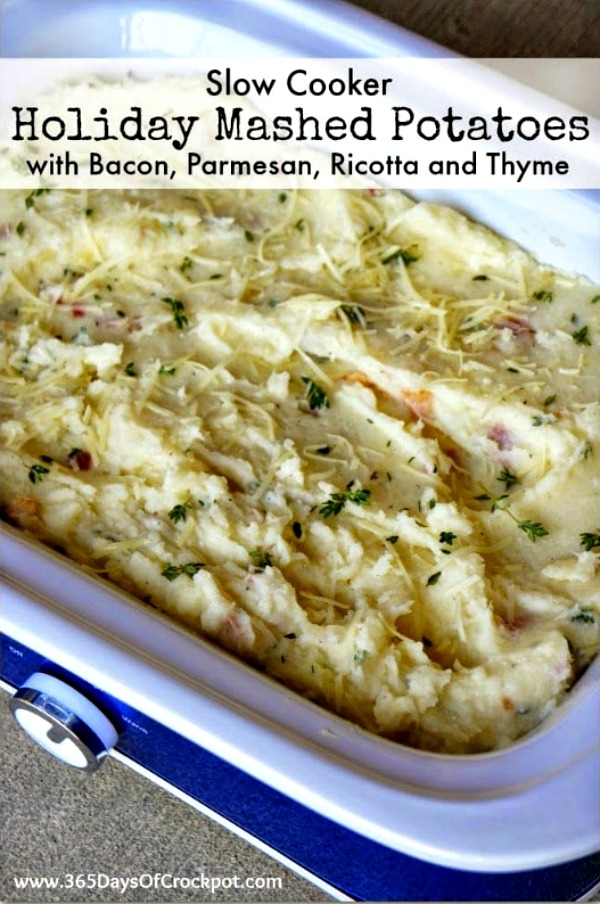 As we count down to Thanksgiving I'm featuring a few favorite ideas that are perfect for the holidays. Then I'm going to take most of the week off to enjoy time with my family!
I tasted these delicious Slow Cooker Holiday Mashed Potatoes with Bacon, Parmesan, Ricotta, and Thyme when my friend Karen brought them to a party a few years ago, so I know they're perfect to recommend for a holiday meal. I love that Karen used the Crock-Pot Casserole Slow Cooker for this special potatoes dish that's perfect for a holiday dinner when you need a lot of potatoes to feed a crowd. But if you don't have the casserole crock you can definitely make these in a large oval slow cooker as well.
There's also a whole collection of Slow Cooker and Instant Pot Thanksgiving Recipes on this site, as well as round-ups for Slow Cooker Potato Recipes and Instant Pot Potato Recipes,  so check those out if you're looking for Thanksgiving ideas when your oven and stove gets filled up with other foods.
Ingredients for Slow Cooker Holiday Mashed Potatoes:
red potatoes
water
salt
bay leaf
garlic
butter
 heavy cream
ricotta cheese
Parmesan cheese
bacon
fresh thyme
salt and pepper