Here are easy and delicious Recipes for Mexican Pulled Pork to make in the Instant Pot or in the Slow Cooker! These pulled pork recipes are perfect for tacos, burrito bowls, enchiladas, taco salad and other Mexican dishes.
PIN the Mexican Pulled Pork recipes to try some later!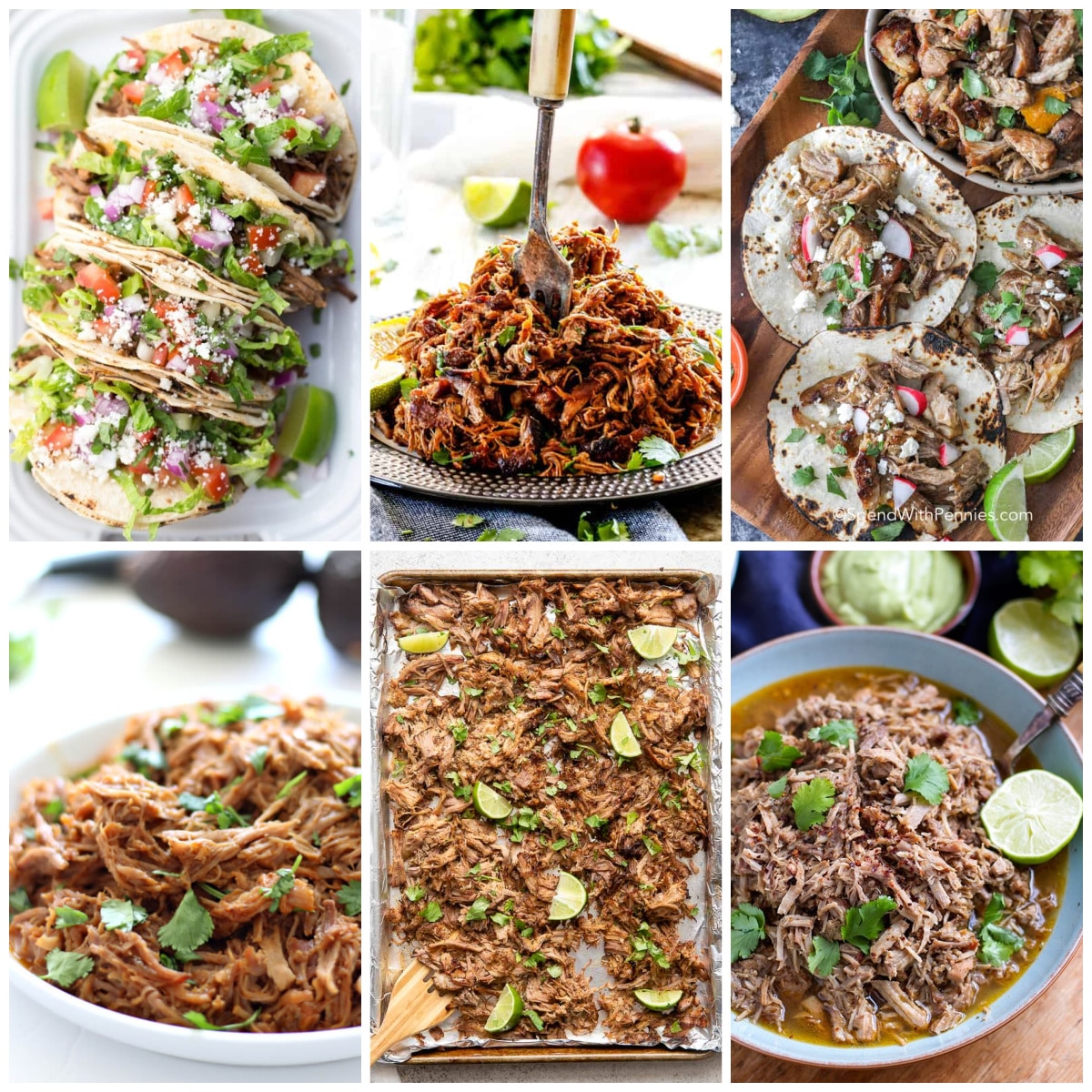 Whether you're using a slow cooker or an Instant Pot, these Recipes for Mexican Pulled Pork all look completely delicious! And Mexican pulled pork is such a versatile meat, and there are 12 different recipes for Mexican-flavored pulled pork here so you can choose the one you prefer.
And Mexican pulled pork is fantastic in the slow cooker of course, but when you want your pork a little more quickly just use the Instant Pot! Either method of cooking results in tender, juicy, fall-apart pork that your family is going to love. Use the tasty pork to make tacos, enchiladas, burritos, taco salad, and if you happen to have any leftovers you can easily freeze it for a later meal.
What is Pulled Pork?
Pulled Pork is a famous American barbecue dish where pork shoulder is rubbed with spices and slow-cooked until it's tender enough to shred apart; then it's often served with barbecue sauce. The pulled pork featured here has Mexican seasonings added during the cooking process.
Can Mexican Pulled Pork be a Low-Carb Meal?
For anyone who's watching carbs, just use low-carb tortillas or eat this tasty Mexican pork on a salad and you've got a delicious low-carb meal!
How can you get the complete recipe?
Just click any recipe name to see the complete recipe on that site, and be sure to scroll down past the photos to see all your pulled pork options! All photos are copyrighted to the site that posted the recipe.
For this Instant Pot Mexican Pulled Pork from Simply Recipes it's recommended that you allow time for the meat to come to room temperature before cooking. That way the pork develops a better crust when you sear it, which means more browned flavor in the finished dish. Elise also included a slow cooker version or Mexican pulled pork in this post if you prefer that method.
Slow Cooker Carnitas from Boulder Locavore make perfect tacos, and this meat is full of flavor from a homemade rub and citrus and pineapple juice!
Instant Pot Barbacoa Pulled Pork from Instant Pot Eats is juicy, tender and full of flavor. You can serve it in tacos, burritos, nachos, or in a variety of other Mexican dishes.
There are so many reasons to love this recipe for Slow Cooker Pork Carnitas from Carlsbad Cravings, and Jen spells them out for you in this very informative recipe post!
Cafe Rio fans are going to swoon over this Instant Pot Cafe Rio Sweet Pork from 365 Days of Slow + Pressure Cooking, and there's a Slow Cooker Cafe Rio Sweet Pork recipe too!
Slow Cooker Pork Carnitas from Spend with Pennies looks like a great recipe for this Mexican classic, and Holly has Instant Pot instructions as well if you prefer that method.
More Slow Cooker or Instant Pot Mexican Pork:
More Tasty Pork in the Slow Cooker or Instant Pot: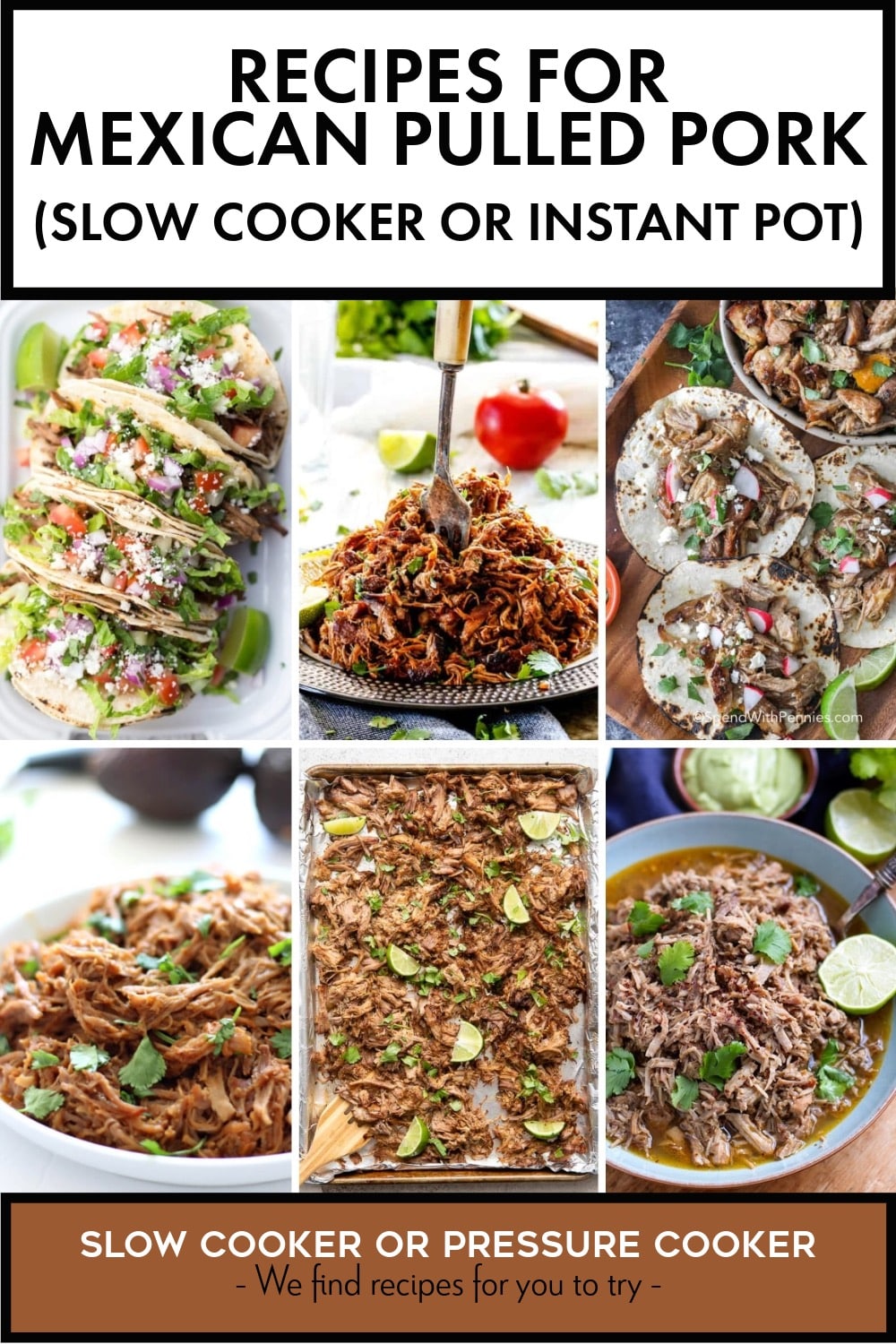 (Visited 2,491 times, 1 visits today)