This post has 25 Low-Carb and Keto Slow Cooker Dinners with so many great ideas; cook on the weekend and eat it during the week! 
PIN 25 Low-Carb and Keto Slow Cooker Dinners to try some later!
When you look at the list of most popular recipes on this site, it's obvious that a lot of you are watching their carbs. And this updated collection of 25 Low-Carb and Keto Slow Cooker Dinners can certainly help! This round-up has tried-and-true low-carb dinners from blogs around the web, including quite a few of my favorites from Kalyn's Kitchen!
When I collected these Keto slow cooker dinners, I decided to eliminate soup, and also to try to avoid most recipes where the blogger recommends serving over rice, inside bread, or on noodles unless I felt the food would be equally good eaten alone. I also wanted dinners that really looked amazing; things I'd happily eat for dinner myself, and I think this is a delicious-looking assortment of ideas.
Happy Low-Carb dinners everyone! Hope the low-carb fans will find something new to add to the dinner rotation!

What if you are not eating strictly Keto?
There are Keto slow cooker recipes here that will appeal to most people, even if you're not eating strictly Keto. I'm tagging this post as Keto because most recipes are Keto but a few might be low in carbs but need to be slightly adjusted to work for a strict Keto diet.
Want more low-carb dinner ideas?
For more low-carb dinner options, check out 50 AMAZING Low-Carb Instant Pot Dinner Recipes and 50 Low-Carb and Keto Slow Cooker Dinners. Or you can use Low-Carb Recipes and Keto Recipes to find all the Low-Carb and Keto recipes on the site!
How do you get the complete recipe?
Just click any recipe title to see the complete recipe on the original site. All photos are copyrighted to the blogger who posted the recipe.
Slow Cooker Salsa Chicken with Lime and Melted Mozzarella
from Kalyn's Kitchen
Slow Cooker Buffalo Ranch Chicken Tenders
from Slow Cooker Gourmet
Green Chile Shredded Beef Cabbage Bowl
from Kalyn's Kitchen
Slow Cooker Greek Chicken
from Chef in Training
Slow Cooker Southwestern Pot Roast
from Kalyn's Kitchen
Slow Cooker Pork Chops with Creamy Herb Sauce
from Slow Cooker Gourmet
Slow Cooker Bavarian Pork Sirloin Tip Roast with Sour Cream Gravy
from Kalyn's Kitchen
Slow Cooker Chile Verde (Mexican Stewed Pork)
from Mel's Kitchen Cafe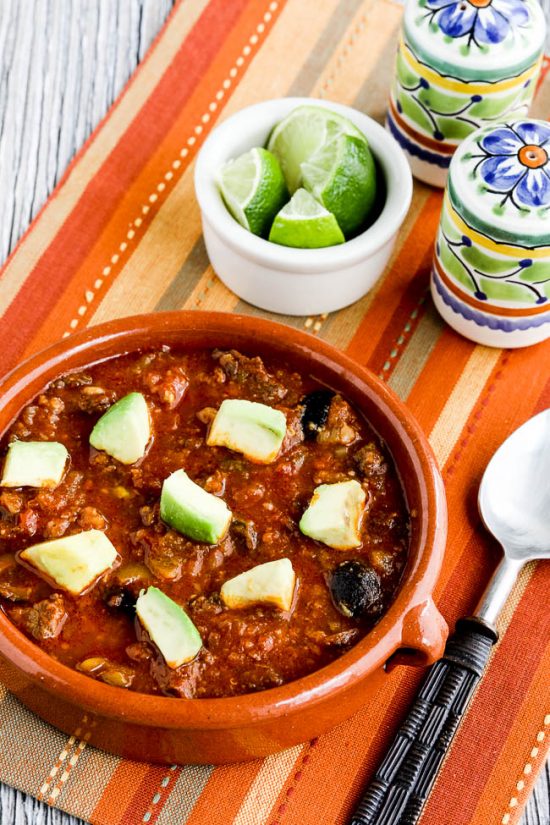 Slow Cooker (or Instant Pot) Southwestern Beef Stew
from Kalyn's Kitchen
Slow Cooker Tex-Mex Pot Roast
from The Perfect Pantry
Slow Cooker Low-Carb Mediterranean Beef Stew
from Kalyn's Kitchen
Crock Pot Balsamic Pork Roast 
from Skinnytaste
Slow Cooker Balsamic and Onion Pot Roast
from Kalyn's Kitchen
Slow Cooker Cauliflower Rice Greek Chicken Bowl
from Kalyn's Kitchen
More Amazing Low-Carb and Keto Slow Cooker Dinners:
Slow Cooker Meatloaf without Breadcrumbs from It's Yummi
Perfectly Simple Sliceable CrockPot Roast Beef from Barefeet in the Kitchen
Slow Cooker Italian Pot Roast from The Perfect Pantry
Simple Crockpot Italian Chicken from Amee's Savory Dish
Slow Cooker Polish Kapusta from Barefeet in the Kitchen
Crockpot Lemon Chicken on a Bed of Sauerkraut from Eat at Home
Slow Cooker Chicken Thighs with Creamy Lemon Sauce from Slow Cooker Gourmet
CrockPot Sausage and Peppers from Everyday Maven
Slow Cooker Cuban-Style Beef Stew from My Colombian Recipes
Slow Cooker Cuban-Style Ropa Vieja from The Perfect Pantry
Slow Cooker Low-Carb Cheesesteaks from Fit Slow Cooker Queen
(Visited 62,675 times, 1 visits today)