If you like cooking with pantry ingredients, here are Black Beans and Rice Recipes to make in the slow cooker or the Instant Pot! This collection includes 20 recipes with black beans and rice, including some that are vegetarian! 
PIN the Black Beans and Rice Recipes to try some later!
Black Beans and Rice is a classic combination that's a part of the food culture in many parts of the world, and if you you like those ingredients I bet this collection of Black Beans and Rice Recipes is going to have more than one recipe you'll want to try!
And there are 20 different options here, with recipes for the slow cooker or the Instant Pot so everyone can choose the cooking method, ingredients, and type of dish they prefer. Imagine you're eating your black beans and rice in Cuba, Mexico, Brazil, or Mexico if you'd like to really have fun with it!
What kinds of Black Beans and Rice Recipes are featured here?
In this round-up you'll find black beans and rice served as bowl meals, Mexican bowls, or burrito bowls plus peppers stuffed with black beans and rice, Black Bean and Rice Soup, and a delicious looking salad meal with black beans and rice made in the Instant Pot.
How do you get the complete recipe?
Just click any recipe title to see the complete recipe on the original blog. All photos are copyrighted to the blog that posted the recipe.
Want more Instant Pot or Slow Cooker ideas for beans or rice?
Check out the round-ups for Mexican Beans, Baked Beans, Red Beans and Rice, Refried Beans, Mexican Rice, Rice Bowls, Chicken and Rice, or Fried Rice if you're a fan of these ingredients.
Slow Cooker Spicy Brown Rice and Black Bean Bowl from Kalyn's Kitchen starts with black beans, brown rice, green chiles, onions and savory spices. Then about thirty minutes before serving, cut up string cheese sticks and gently stir the pieces into the rice and beans mixture.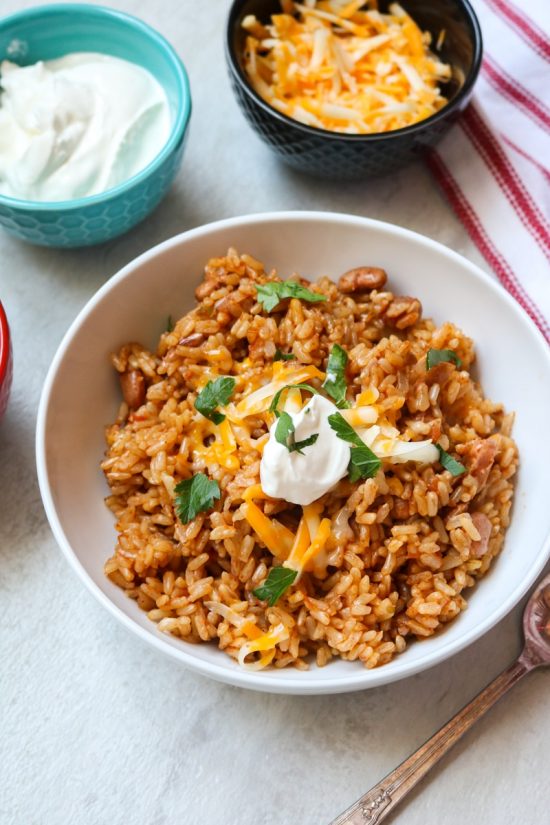 Instant Pot Rice and Beans from A Mind "Full" Mom is made with brown rice, dried beans, and the perfect combination of seasonings. Kristen says that red beans, black beans, or pinto beans all work in this recipe.
Karen says this Instant Pot Mexican Black Beans and Rice from 365 Days of Slow + Pressure Cooking is the easiest and tastiest rice ever! The brown rice and black beans are cooked with salsa, garlic salt, a bay leaf, and cumin and it only takes about 40 minutes from start to finish in the Instant Pot.
Slow Cooker Mexican Rice Bowls from Kalyn's Kitchen are a delicious dish with just enough spicy flavors to make it interesting! Please don't skip the Poblano-Avocado salsa!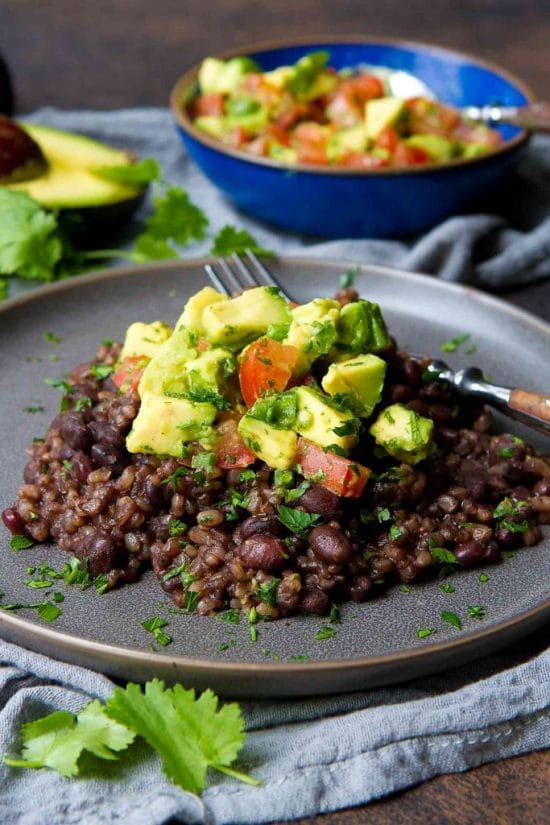 Instant Pot Black Beans and Rice with Avocado Salsa from Cookin Canuck comes together easily and is healthy and economical. Top the beans and rice with a squeeze of lime juice and some colorful Avocado Salsa for a delicious vegan meal that everyone will love.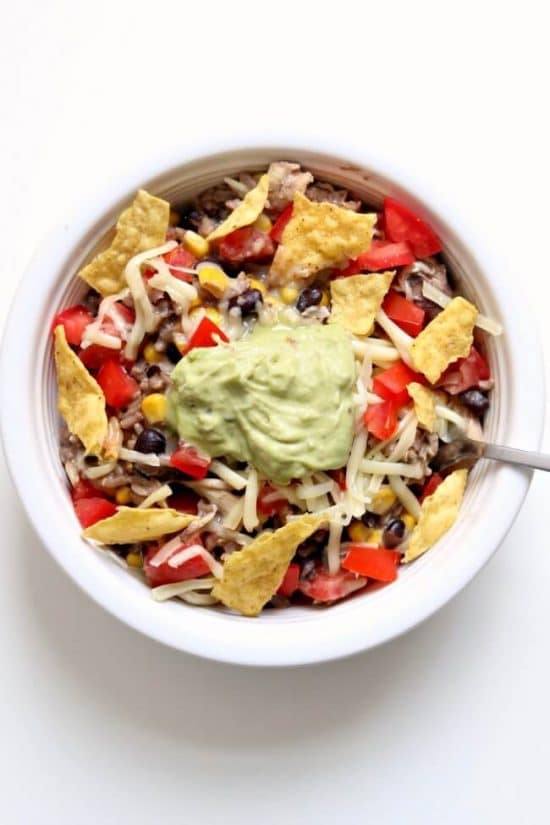 Instant Pot Mexican Chicken Rice Bowls from 365 Days of Slow + Pressure Cooking have chicken, black beans, rice, corn, tomatoes, and lots of other tasty ingredients to make a bowl that's loaded with flavor.
Black Bean and Rice Soup from Kalyn's Kitchen is an ultra popular soup that everyone seems to like, and this recipe can be made in the slow cooker or on the stove. And this soup can easily be vegan if you make it with vegetable stock!
Instant Pot Brown Rice Black Bean Salad from Pressure Cooking Today is full of color and lots of great textures, and included with the recipe is a tasty lime dressing that adds a spicy kick to the salad. Serve as a main dish on a bed of spinach with some tortilla chips for a perfect light lunch or dinner.
More Black Beans and Rice in the Slow Cooker or Instant Pot:
(Visited 4,823 times, 1 visits today)