This round-up of The BEST Instant Pot Fried Rice is a great place to get ideas for delicious fried rice made quickly in the Instant Pot! Fried rice is a favorite side dish, or make it a complete dinner when you want a lighter meal.
PIN Fried Rice Recipes to try it later!
On this site we're always looking for new ideas for your Instant Pot, and we've featured interesting recipes like Instant Pot Cheesecake, Instant Pot Pasta, and Instant Pot Lettuce Wraps. But I'm guessing that this round-up of The BEST Instant Pot Fried Rice just might be one of the most "think outside the box" recipe collections we've shared so far.
But it makes a lot of sense if you think about it. Many Instant Pot users have discovered how easy it is to make Instant Pot Rice. So fried rice is just a different variation of that, with more seasonings and other ingredients added.
What kinds of Fried Rice Recipes are featured here?
We found 14 Instant Pot Fried Rice recipes to give you lots of options on the flavors and added ingredients. There are traditional fried rice recipes with peas and carrots, but also fried rice with other flavors like curry, ham, pineapple, sesame oil, chicken, or shrimp. And you can serve your fried rice as a side dish, or have it as the main dish for a light meal. If you're a fried rice fan, I bet this is something you'll make over and over once you try it!
How do you get the complete recipe?
Just click any recipe title to see the complete recipe on the original blog. All photos are copyrighted to the blogger who posted the recipe.
Fried Rice from Cooking With Curls uses vegetable broth to cook the rice and adds peas, carrots, egg, and soy sauce.
Indian Vegetable Rice from Mel's Kitchen Cafe uses brown Basmati rice and curry powder, for a delicious twist on fried rice with Indian flavors.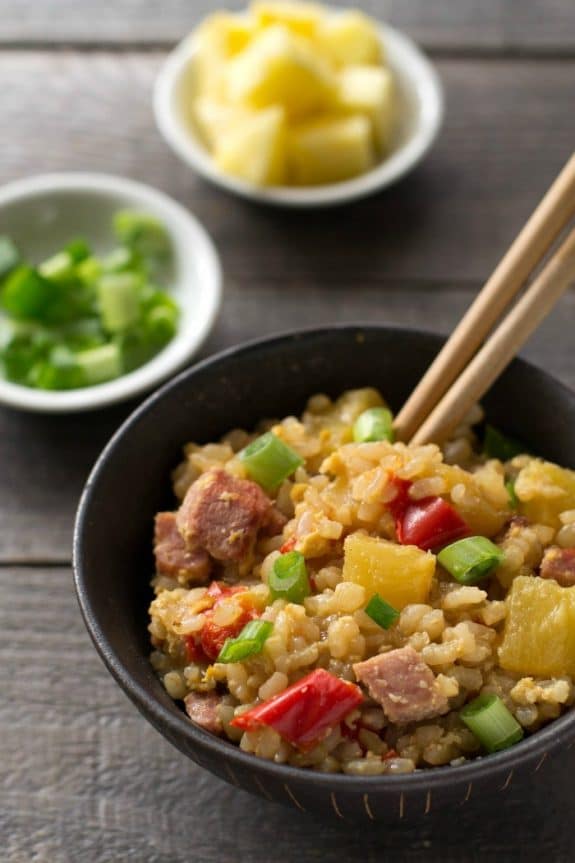 Hawaiian Fried Rice from Real Food Real Deals has peppers, ham, and pineapple for a Hawiian take on fried Rice!
Fried Rice from Happy Foods Tube is a classic recipe with peas and carrots, and this recipe uses long-grain white rice.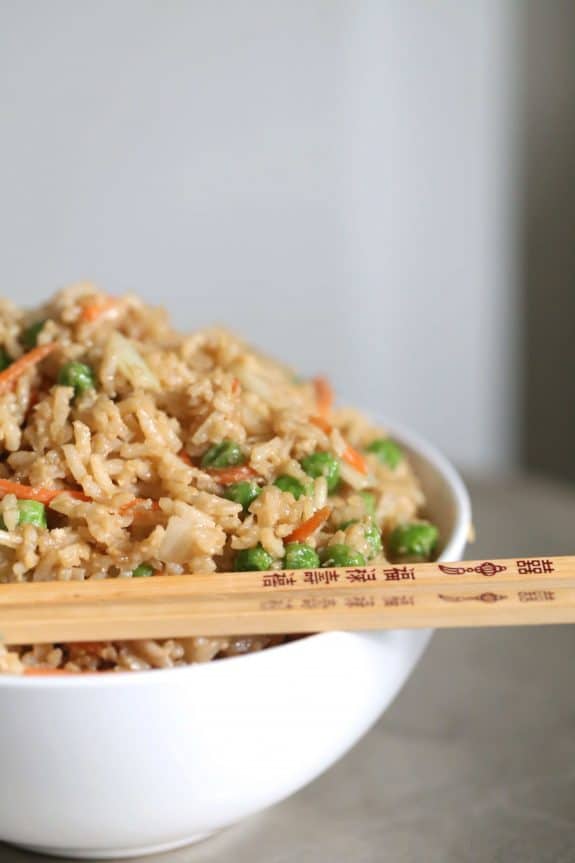 Fried Rice from Predominantly Paleo is another classic recipe with Basmati Rice, peas, carrots, Tamari or coconut aminos, onion, and a dash of sesame oil gives this extra flavor.
Chicken Fried Rice from Fork to Spoon adds chicken for a fried rice dish that you can serve as a complete meal if you like! And this uses frozen vegetables to make it easier to get on the table.
More Fried Rice in the Instant Pot:
Chicken Fried Rice from She Cooks With Help
Pressure Cooker Fried Rice from My Chef's Tool Box
Indonesian Shrimp Fried Rice from What's Cookin Chicago
Teriyaki Chicken Fried Rice from Happy Belly Foodie
Hibachi Fried Rice from Pressure Luck Cooking
Pressure Cooker Fried Rice from Happy Belly Foodie
Easy Pressure Cooker Fried Rice from The Typical Mom
Chicken Fried Rice from Wondermom Wannabe
(Visited 10,908 times, 1 visits today)