Anyone who's a fan of middle eastern food will love these Middle Eastern Chicken Recipes to make in the slow cooker or the Instant Pot! There are 24 amazing chicken recipes here with middle eastern flavors, and if you use low-carb pita bread or serve with cauliflower rice, most of these can be a low-carb meal.
Pin the Middle Eastern Chicken Recipes to try some later!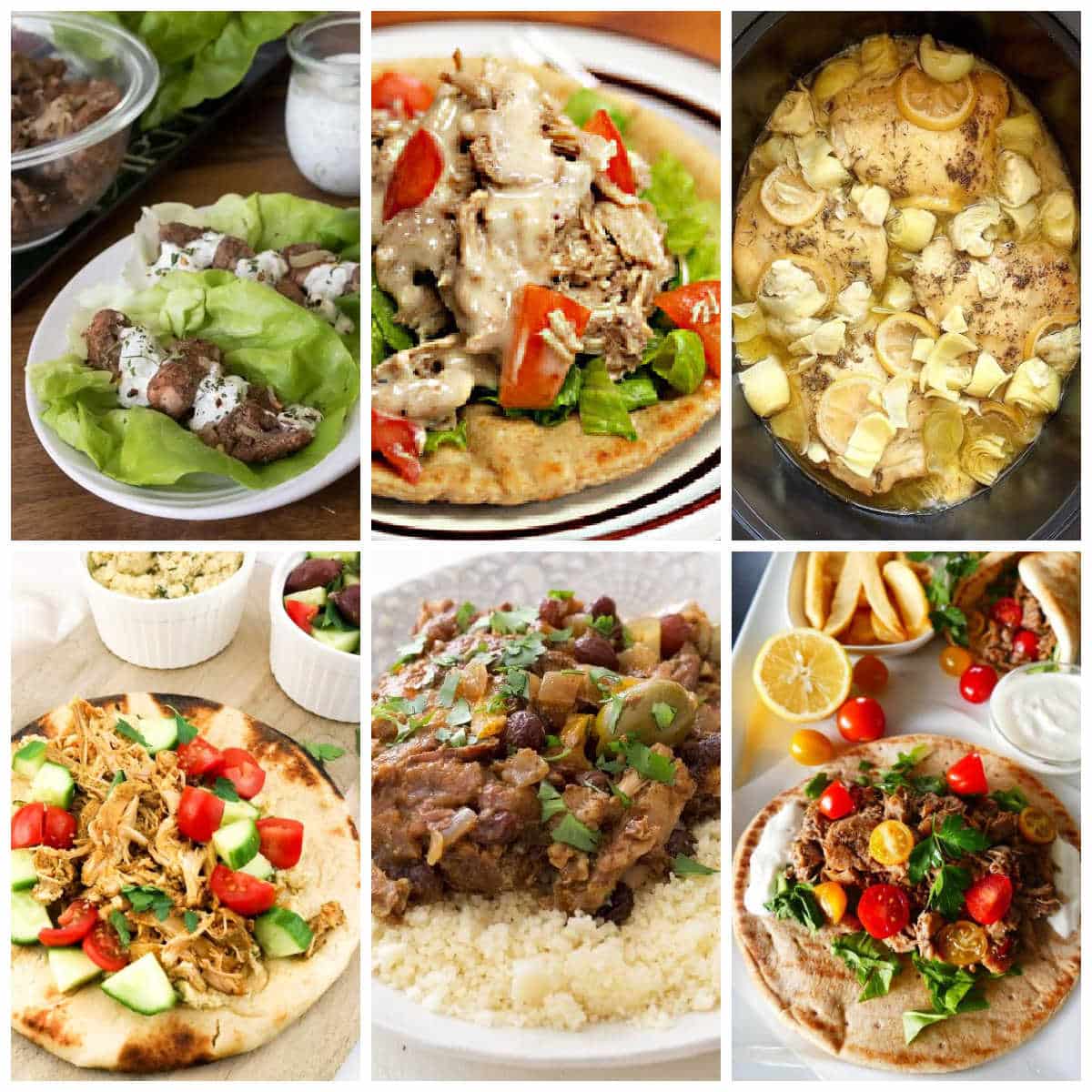 Chicken is a common ingredient for dinner all over the world, and today we're sharing Middle Eastern Chicken Recipes in this collection with Slow Cooker and Instant Pot options! And even if you haven't eaten middle eastern food much or haven't cooked it at home, I bet there's a dinner here that will appeal to you if you check out the recipe. Hope you enjoy cooking some chicken with middle eastern flavors!
What kinds of Middle Eastern Chicken Recipes are featured here?
These dishes combine chicken with middle eastern ingredients like tomatoes, cucumber, artichokes, olives, artichokes, lemon, Tahini, yogurt, and a wide variety of middle eastern spices. And white a few of these recipes use pita bread. (I would use my favorite low-carb pita bread, which would make some of these into a low-carb meal.)
How do you get the complete recipe?
Just click or tap any recipe title to see the complete recipe on the original site. All photos are copyrighted to the site that posted the recipe.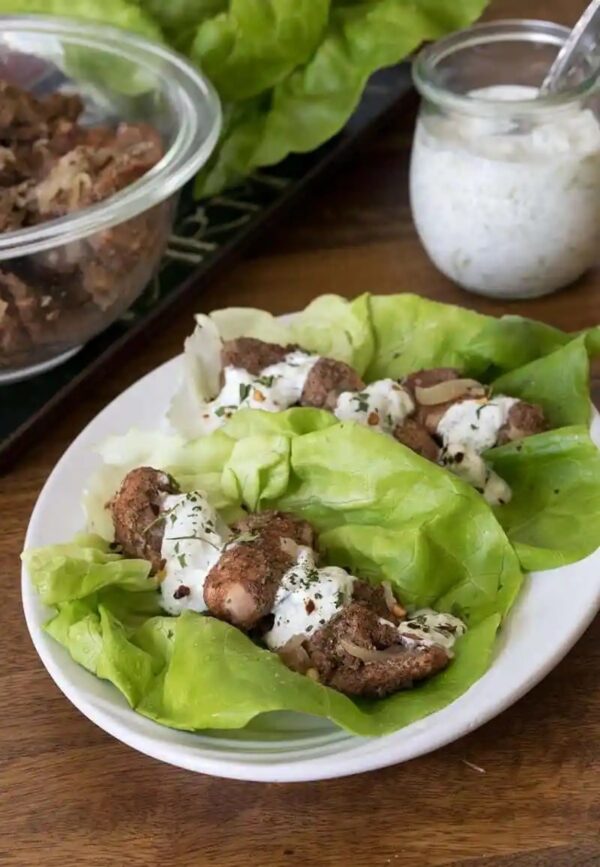 Pressure Cooker Chicken Shawarma from Pressure Cooking Today is served in lettuce wraps, which is an option that I love!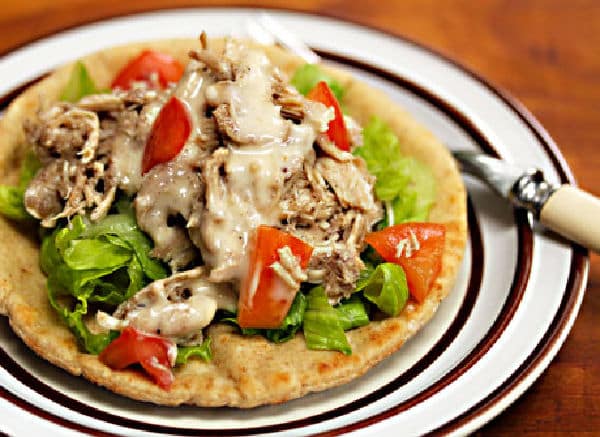 Slow Cooker Middle Eastern Garlic Chicken from The Perfect Pantry sounds like a wonderful dinner any time of year. Marinating the chicken before it goes into the slow cooker makes this extra flavorful, and if you serve with low-carb pita bread, this can be a tasty low-carb meal!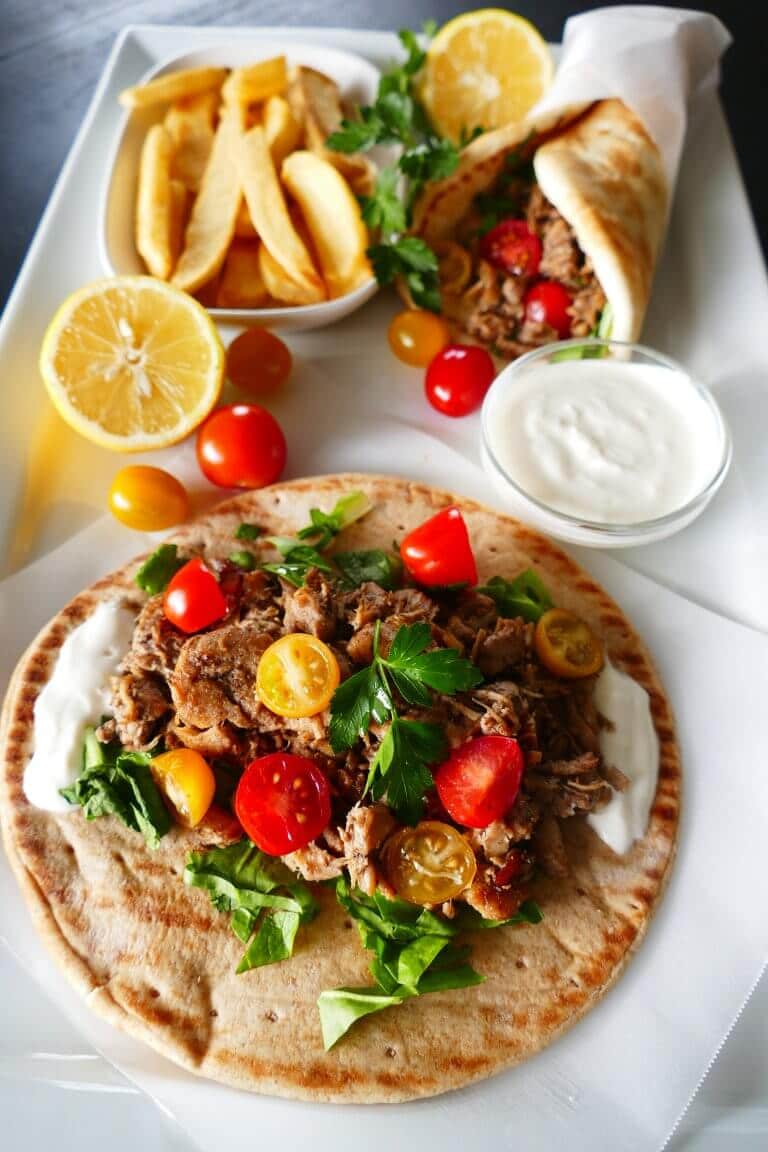 Instant Pot Chicken Shawarma from Paint The Kitchen Red sounds like a wonderful way to enjoy those middle eastern flavors at home, and this is another one that would be easy to make into a low-carb meal with low-carb pita bread (but you'll have to skip the fries!)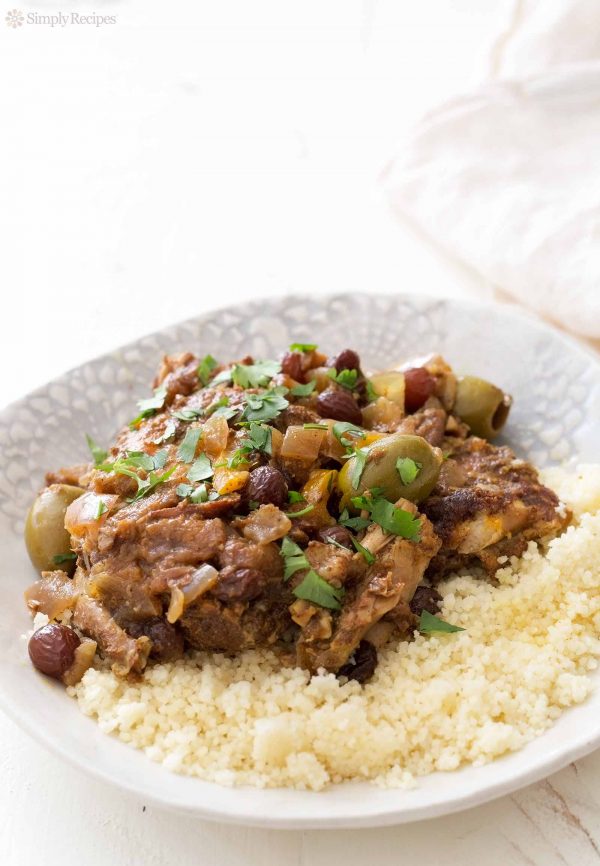 Slow Cooker Chicken with Moroccan Spices from Simply Recipes has a long list of spices that give this chicken that amazing flavor, but Elise says don't stress if you don't have every single one of them. And I love the use of green olives here! There's also an option for Pressure Cooker Moroccan Chicken if you prefer that method! If you want this to be a low-carb meal go easy on the raisins and serve with cauliflower rice.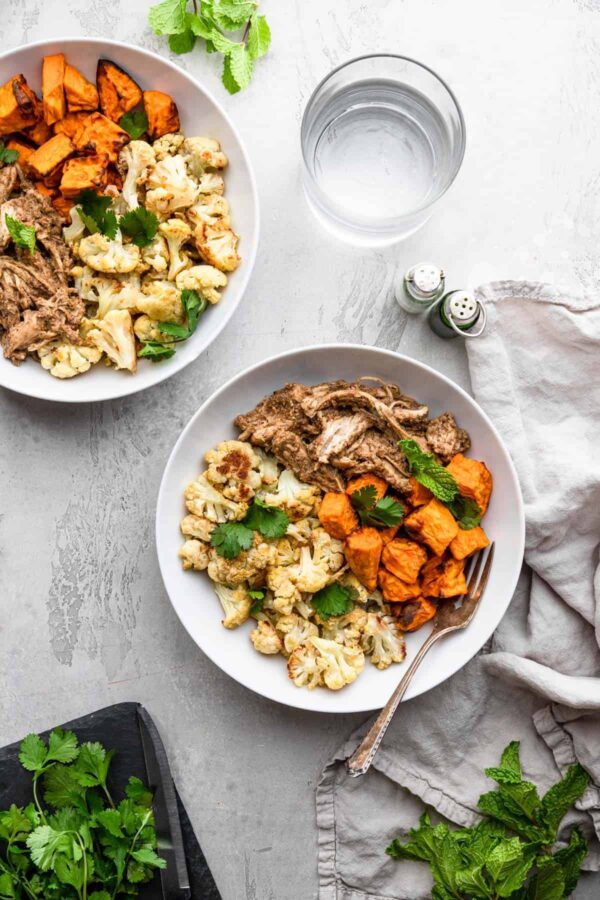 This delicious sounding Instant Pot Tahini Chicken from Food Faith Fitness uses the middle eastern sesame seed paste called Tahini, and I love that flavor.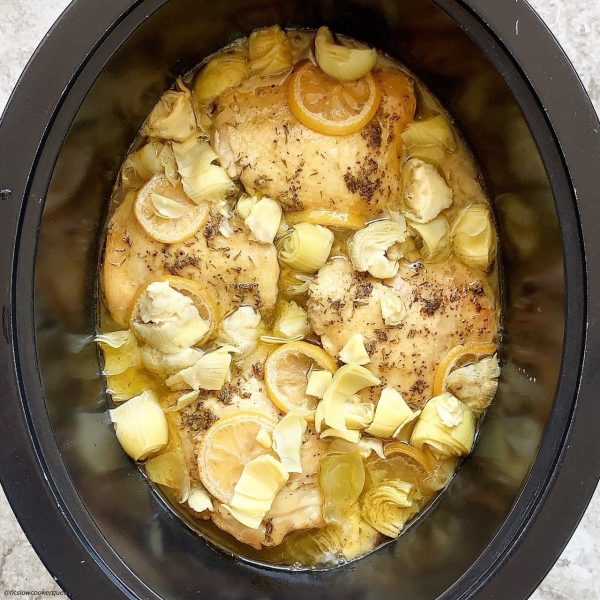 Slow Cooker or Instant Pot Lemon Artichoke Chicken from Fit Slow Cooker Queen will be a hit with artichoke fans, and this recipe is low-carb, Paleo, and Whole 30 approved!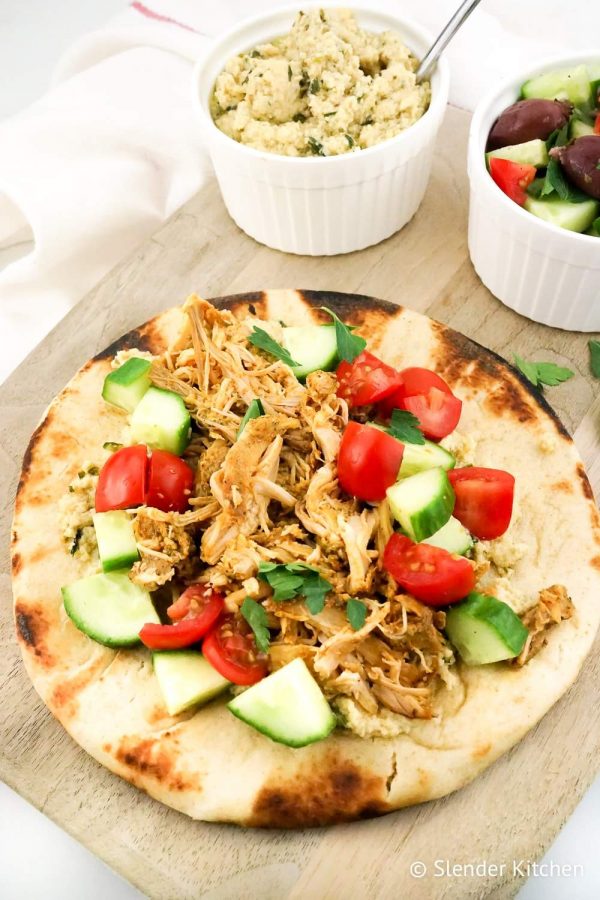 Chicken Shawarma from Slender Kitchen can be made in the Instant Pot, in the slow cooker, or on the grill and this has all those flavors that make Shawarma so good. And here's another recipe where just using low-carb pita bread can make it a low-carb meal!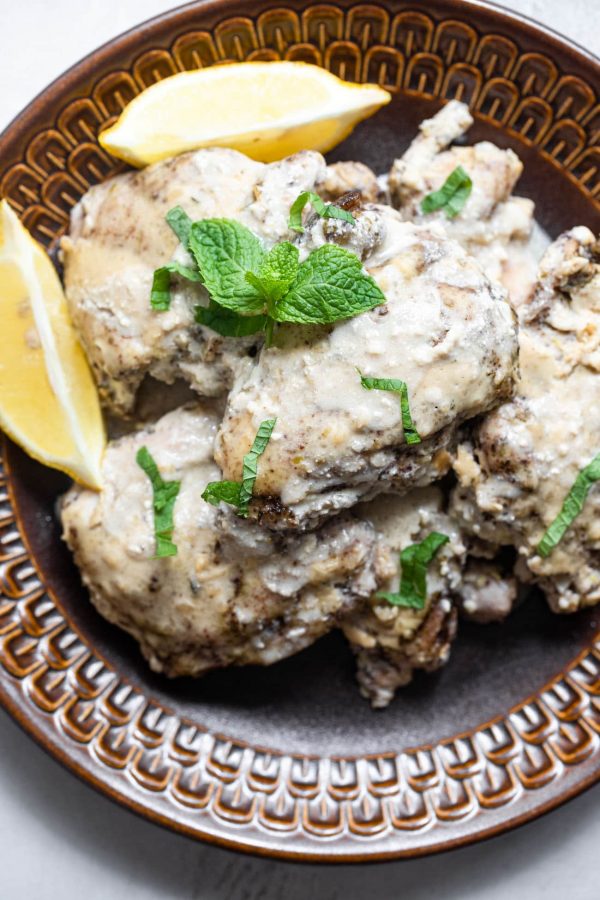 Middle Eastern Keto Slow Cooker Chicken Thighs from Food Faith Fitness sound like an amazing dinner from the slow cooker, and if you serve with Cauliflower Rice this will be a low-carb meal!
More Instant Pot or Slow Cooker Chicken with Middle Eastern Flavors:
Slow Cooker Chicken Shawarma Pitas from The Lemon Bowl
Instant Pot Chicken and Rice from My Forking Life
Slow Cooker Chicken and Rice Casserole from Simply Recipes
Low-Carb Instant Pot Chicken Shawarma from Two Sleevers
Slow Cooker Moroccan Apricot Chicken from The Wanderlust Kitchen
Instant Pot Lebanese Chicken Soup from The Lemon Bowl
More Ideas for CrockPot or Instant Pot Chicken:
Check out Slow Cooker Lemon Chicken, Instant Pot Lemon Chicken, or Amazing Instant Pot Chicken Dinners for lots more ideas for winner chicken dinners!
(Visited 6,800 times, 1 visits today)