This collection of Instant Pot Cheesecake Recipes has great ideas for a treat when you're stuck at home and just need some comfort food! And Instant Pot Cheesecake is so much easier and faster than making it in the oven!
PIN the Instant Pot Cheesecake Recipes to try some later!
If you have an Instant Pot (affiliate link) you must have heard the buzz about Instant Pot Cheesecake! Seems like every Instant Pot fan wants to try this idea, and why not when you can have delicious cheesecake in much less time than it takes to bake it in the oven. And during times when you really need comfort food more than usual, I'm thinking Instant Pot Cheesecake Recipes are going to be a huge hit with the family!
And there's plenty of variety in this collection, even a couple of cheesecakes that are low-carb! Hopefully you'll try several so you can decide just which one you like best!
All Photos are copyrighted to the blog that posted the recipe; just click the recipe title under each photo to see that recipe on the original blog. And if you still need more comfort food check out The BEST Instant Pot Chocolate Desserts!
Instant Pot Salted Caramel Cheesecake
from Cookies and Cups
Pressure Cooker Pumpkin Caramel Pecan Cheesecake
from Pressure Cooking Today
Instant Pot Oreo Cheesecake
from My Baking Addiction
Pressure Cooker Low Carb Strawberry Cheesecake
from Scattered Thoughts of a Crafty Mom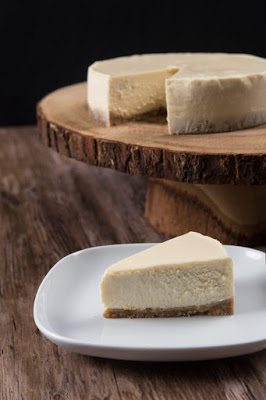 Instant Pot New York Cheesecake #17
from Pressure Cook Recipes
Instant Pot Low-Carb Keto Cheesecake
from Our Paleo Life
Pressure Cooker Peanut Butter Cup Cheesecake
from Pressure Cooking Today
Pressure Cooker Raspberry Cheesecake
from Pressure Cooking Today
Amazing Pressure Cooker Key Lime Cheesecake
from Skip to my Lou
Instant Pot or Oven Blueberry Cheesecake
Christine's Recipes
Red White and Blue Pressure Cooker Cheesecake
from Pressure Cooking Today
Instant Pot Cheesecake
from The Cents'Able Shoppin'
Pressure Cooker Pumpkin Cheesecake
from Pint Sized Baker
Instant Pot 6 Inch New York Style Cheesecake
from Homemade Food Junkie
Pressure Cooker Samoa Cheesecake
from Pressure Cooking Today
Instant Pot Cheesecake
from Recipe Girl
(Visited 31,506 times, 1 visits today)