Here are amazing Slow Cooker and Instant Pot Enchiladas Recipes, and I think enchiladas are perfect for a family-friendly dinner! And there are options for enchiladas with chicken, beef, pork, or vegetarian enchiladas, enjoy!
PIN the Enchiladas Recipes to try some later!
When you want a comforting dinner idea that the family will devour, these Slow Cooker and Instant Pot Enchiladas Recipes are really going to hit the spot! And there are enchiladas recipes here with chicken, pork, or beef, and even some vegetarian enchiladas. No matter which option you choose, I bet enchiladas are going to be a dinner the whole family is going to love.
Of course you don't want to spend your whole day making enchiladas, and there are a few enchilada recipes here that have shortcuts you might appreciate, like using canned enchilada sauce! And there are green chile enchiladas as well as enchiladas with traditional red sauce! I hope you'll think of these enchilada recipes next time you just NEED some delicious Mexican Food!
What are enchiladas?
Enchiladas are a Mexican specialty where tortillas (usually corn) are  rolled around a filling and covered with a savory sauce. They're made with a wide variety of fillings and sauces, and are popular items on the menu at Mexican restaurants.
How do you get the complete recipe?
Just click any recipe title to see the complete recipe on the original site. All photos are copyrighted to the site that posted the recipe. Just click the recipe title under any photo to see the complete recipe on the original site.
Want More Mexican Food Ideas?
Check out Instant Pot Mexican Food Recipes, Slow Cooker and Instant Pot Mexican Food Recipes, or Low-Carb Mexican Food Dinners to Make in the Instant Pot for lots more tasty ideas for Mexican food to make at home!
Slow Cooker Chipotle Beef Enchiladas from The Perfect Pantry are a recipe you're sure to make again and again and I bet shredded beef enchiladas are going to be a hit with the family.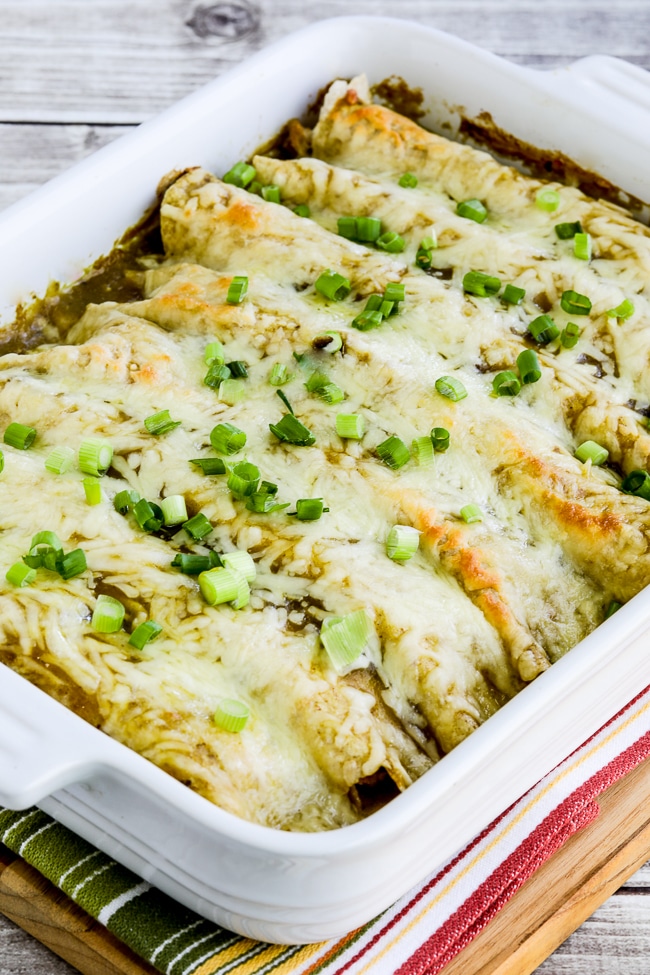 Instant Pot Green Chile Pork Enchiladas from Kalyn's Kitchen are absolutely delicious, and if you use the low-carb tortillas that are recommended these enchiladas are low in net carbs!
Instant Pot Smothered Green Sauce Enchiladas from 365 Days of Slow + Pressure Cooking have chicken with a green tomatillo sauce that Karen says is similar to the sauce at Cafe Rio, yum!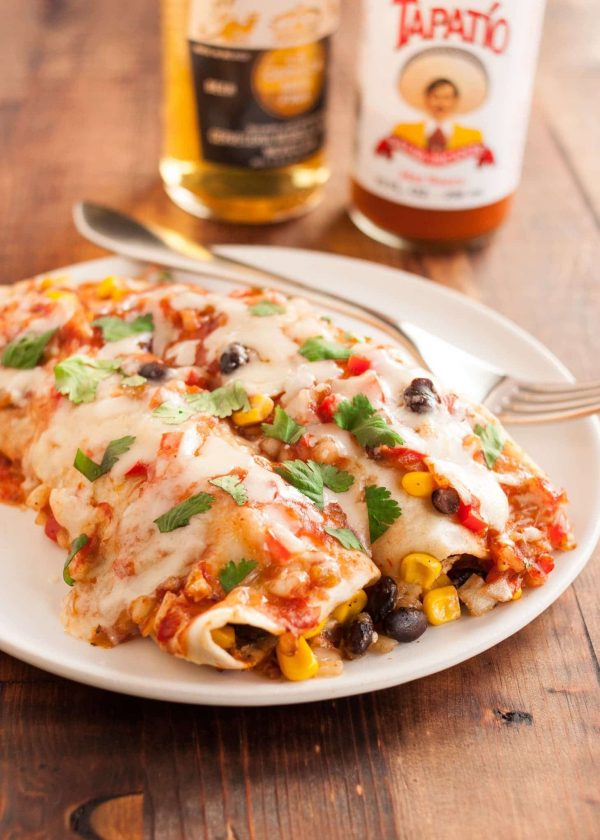 Slow Cooker Black Bean Enchiladas from The Kitchn are a recipe that's been hugely popular on their site, and this is easy to get into the slow cooker!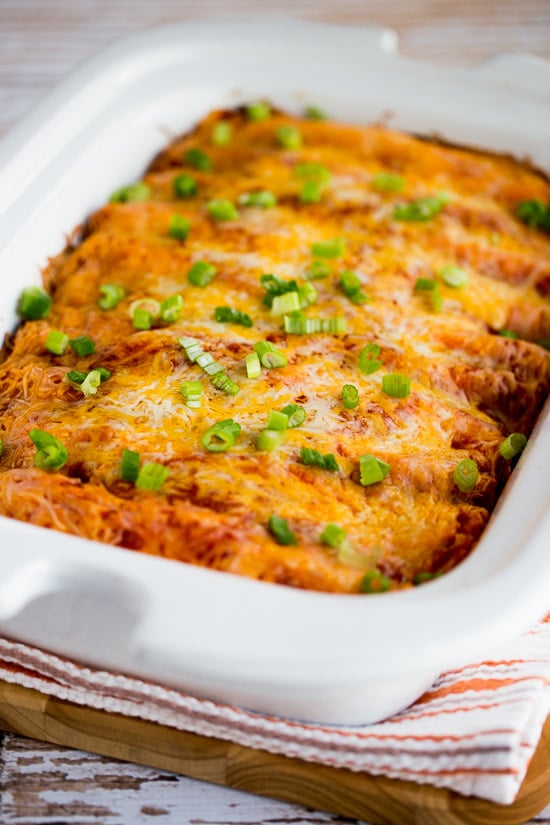 With this recipe for Slow Cooker Sour Cream Chicken Enchiladas you can cook the enchiladas right in the slow cooker. This is perfect with the Crock-Pot Casserole Crock Slow Cooker (affiliate link) but any large oval slow cooker will also work.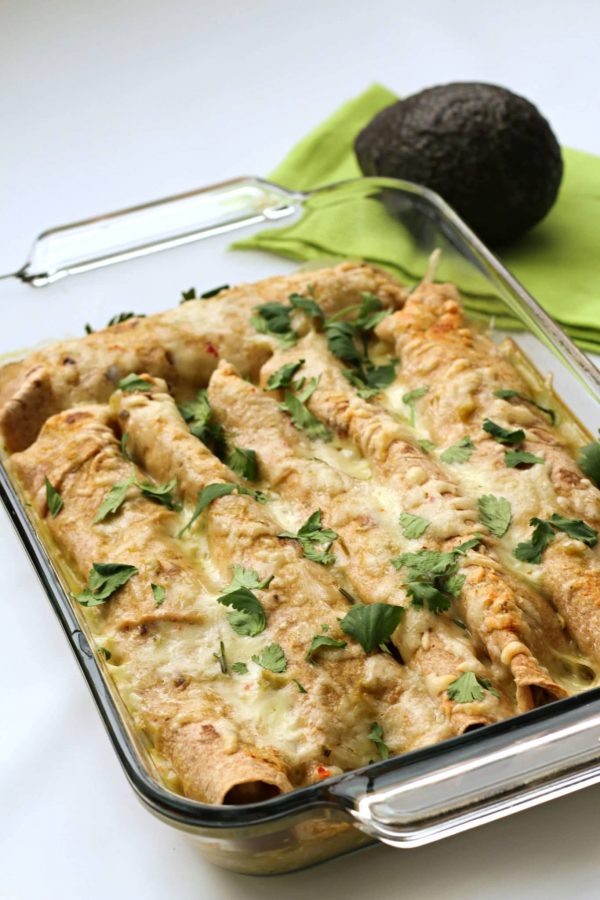 There are also slow cooker instructions in this recipe for Instant Pot Green Chile Chicken Enchiladas from 365 Days of Slow + Pressure Cooking, and I love the sound of chicken cooked with green chile sauce and then turned into enchiladas!
Slow Cooker Cheesy Chicken Enchiladas from Six Sisters' Stuff have chicken that cooks in the slow cooker and then gets rolled into tortillas for cheesy enchiladas that only need about 25 minutes of oven time.
My friend Barbara says these Instant Pot Shredded Beef Enchiladas from Pressure Cooking Today are one of the most popular recipes on her site, and they definitely look great!
There you have eight options for slow cooker or Instant Pot enchiladas; which one would you try first?
(Visited 1,779 times, 1 visits today)