Instant Pot Turkey Breast is a great option when you're having a smaller group for Thanksgiving, or make it whenever you want a special meal. This round-up has ten delicious recipes for cooking turkey breast in the Instant Pot, and every blogger has a slightly different take on it.
PIN the recipes for Instant Pot Turkey Breast to try one later!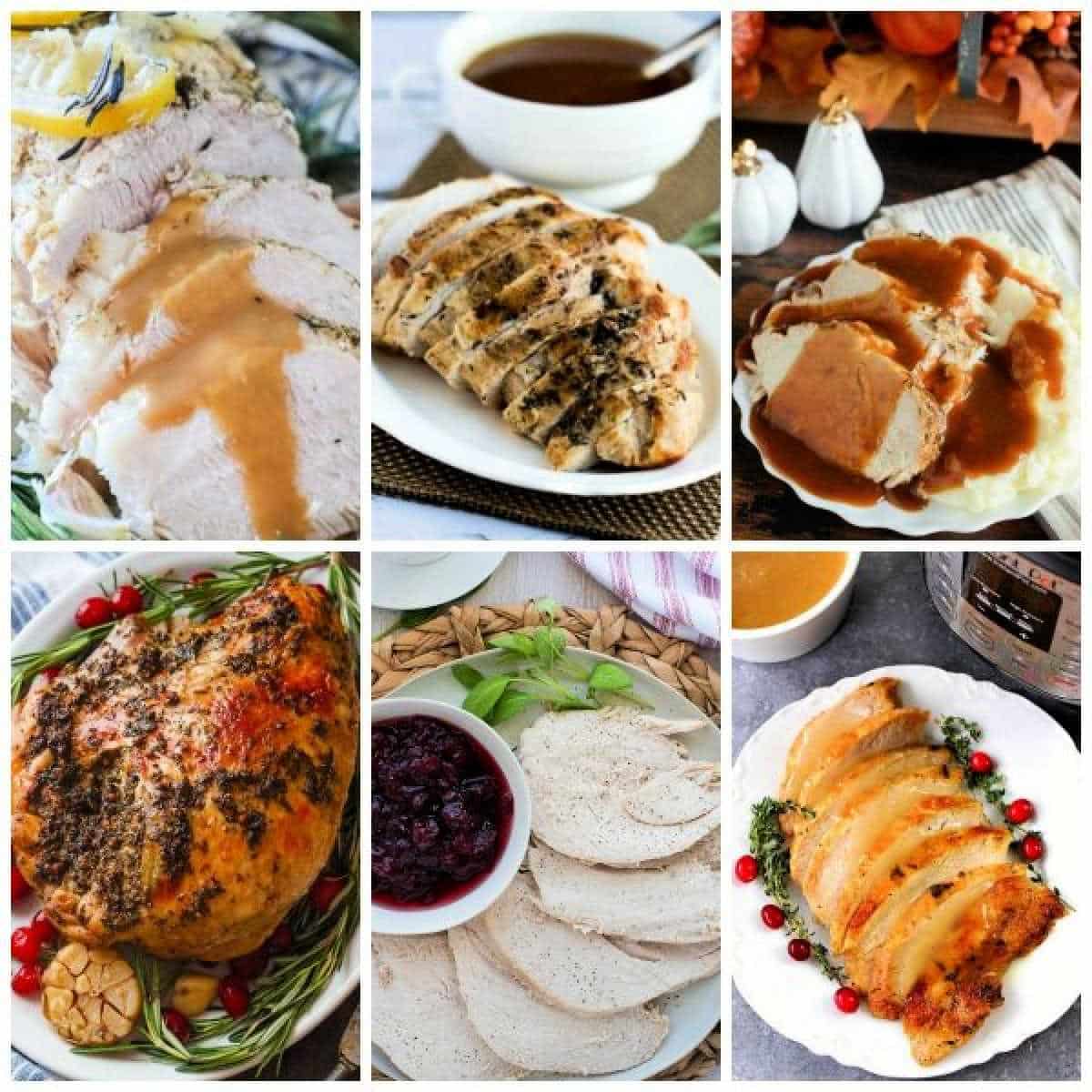 For years and years I've been a fan of slow cooker turkey breast, and that recipe collection has been popular on this site. But now that I've tried turkey breast in the Instant Pot, I am a huge fan of that method as well!
Turkey turns out so moist and delicious in the Instant Pot! And if you haven't tried it yet, we hope one of these amazing recipes for Instant Pot Turkey Breast will entice you to grab a turkey breast and give it a try!
And Thanksgiving is only weeks away, so it's time to start planning what to cook, and of course turkey breast is a great idea for Thanksgiving when you have a small crowd!
But turkey dinner is way too tasty to only serve it once a year. Even with the time to come to pressure and release pressure, turkey breast in the Instant Pot is still quick enough for a week-night dinner, and if you serve it with low-carb side dishes turkey breast can also be perfect for a low-carb meal.
What kinds of turkey breast recipes will you find here?
Here you'll find traditional turkey breast recipes with all the fixings that make turkey such a great meal! And there are some interesting turkey breast variations as well.
Do you prefer Slow Cooker Turkey Breast?
If you prefer making turkey breast in the slow cooker check out Slow Cooker Turkey Breast Recipes.
Want a tip for perfect turkey gravy?
If you're going to be cooking a turkey and making gravy, Penzeys Turkey Soup Base (affiliate link) is the product I always recommend and every year around this time I start reminding people to order it!
How do you get the complete recipe?
Just click any recipe title to see the complete recipe on the original site. All photos are copyrighted to the blog that posted the recipe.
Want More Ideas for Thanksgiving?
Check out our HUGE collection of 100 Thanksgiving Recipes that Don't Need the Oven for more ideas for using the Slow Cooker or the Instant Pot for Thanksgiving!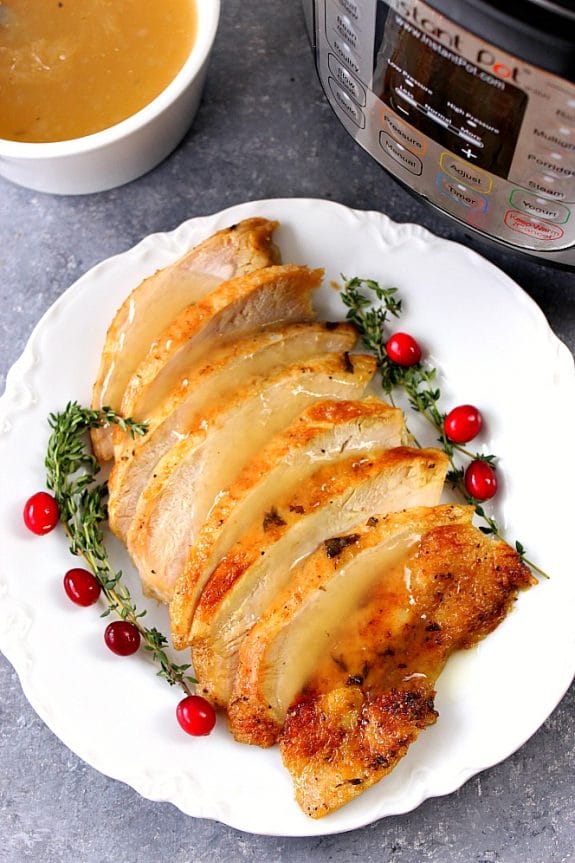 This Instant Pot Turkey from Crunchy Creamy Sweet is so juicy and cooks in just 35 minutes!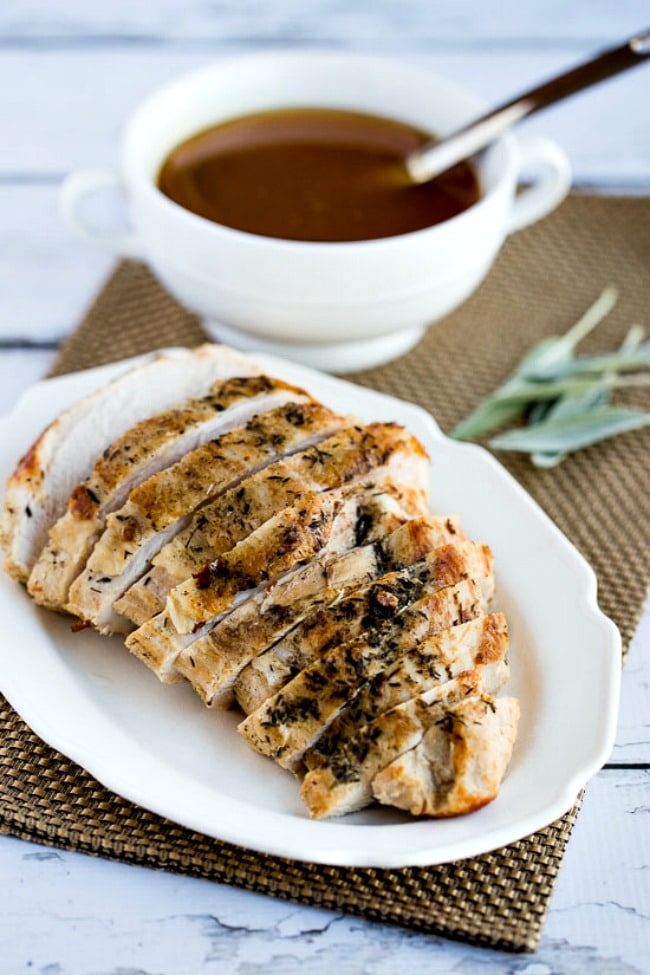 You can choose your cooking method with this recipe post for CrockPot or Instant Pot Turkey Breast from Kalyn's Kitchen and this post has all my tips for adding flavor to the turkey as well as lower-carb turkey gravy tips!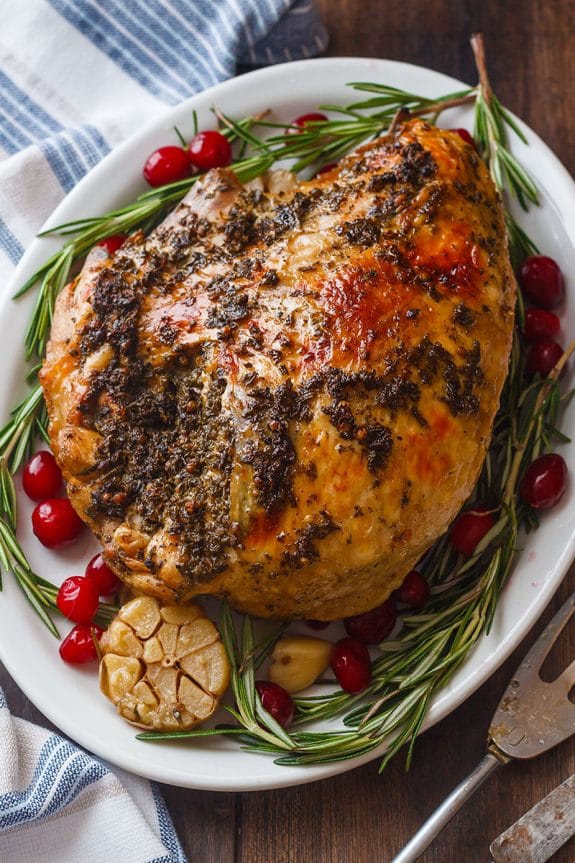 Instant Pot Turkey with Garlic-Herb Butter from Eatwell 101 uses a quick broil to get it nicely browned. Top with the delicious gravy made from that garlic-herb butter flavored drippings!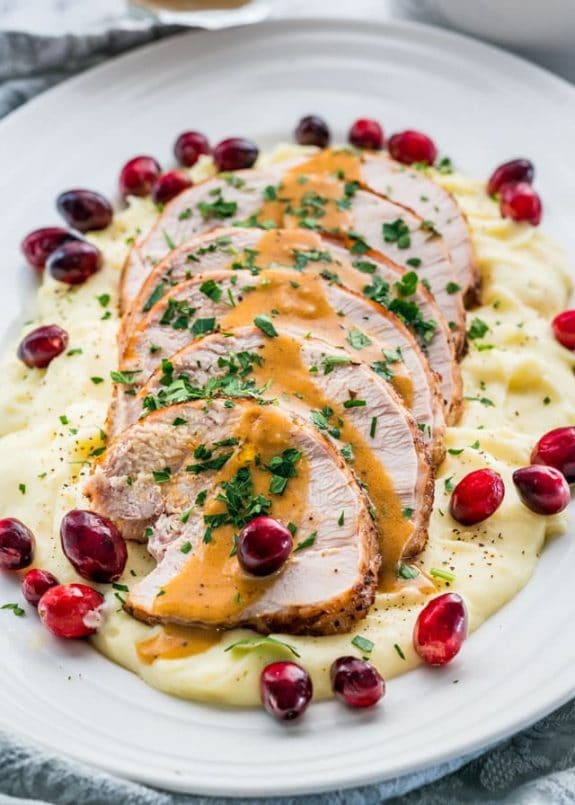 This super easy Instant Pot Turkey from Jo Cooks sears right in the Instant Pot which gives a nice browned color that everyone loves. Those turkey drippings make a delicious gravy, and everything is made in one pot.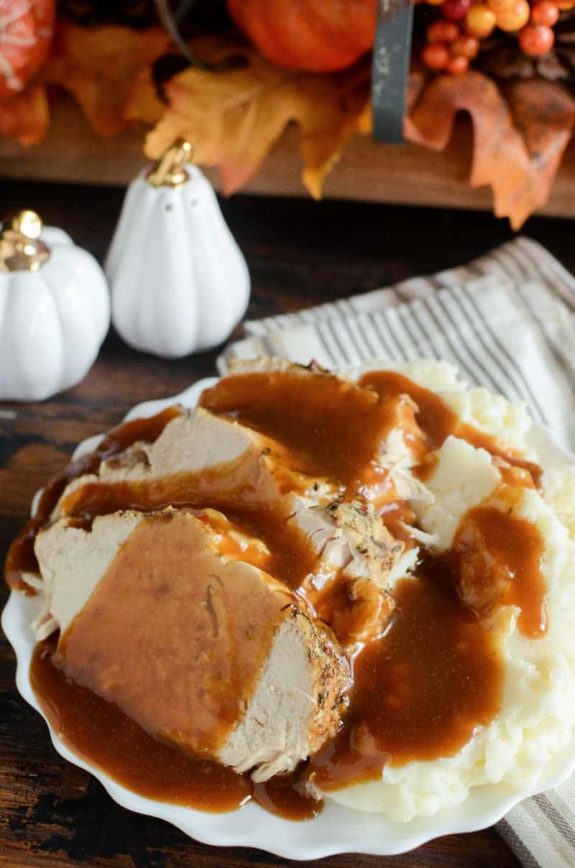 I think this Turkey and Gravy from The Novice Chef looks absolutely delicious!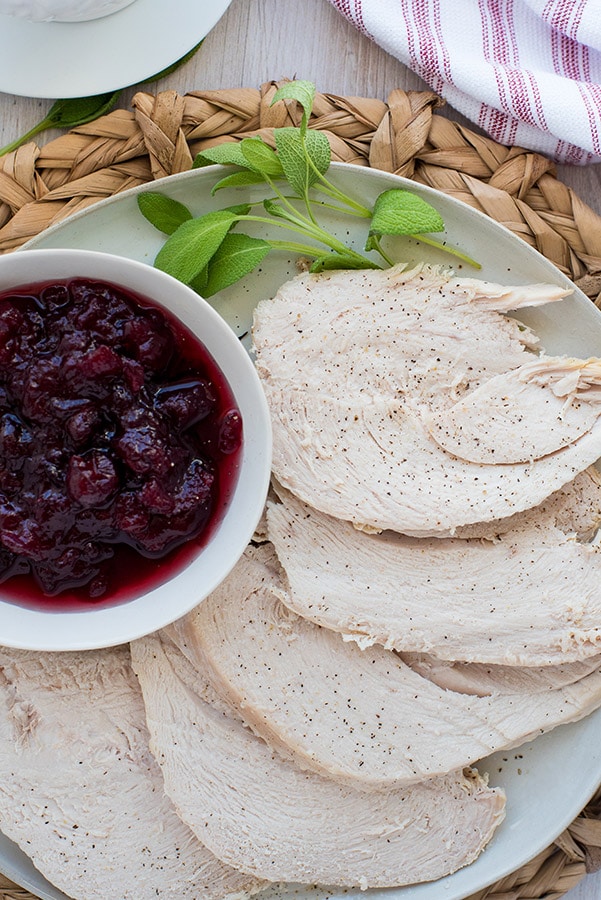 Pressure Cooking Today presents this delicious-looking Moist and Tender Turkey Breast. You can have this juicy, tender turkey on your table in very little time!
Turkey Breast & Gravy from The Pinning Mama is fool-proof to giving you juicy, tender turkey every time! You can even start with a frozen turkey breast, and end with a moist and tender meat to serve for dinner.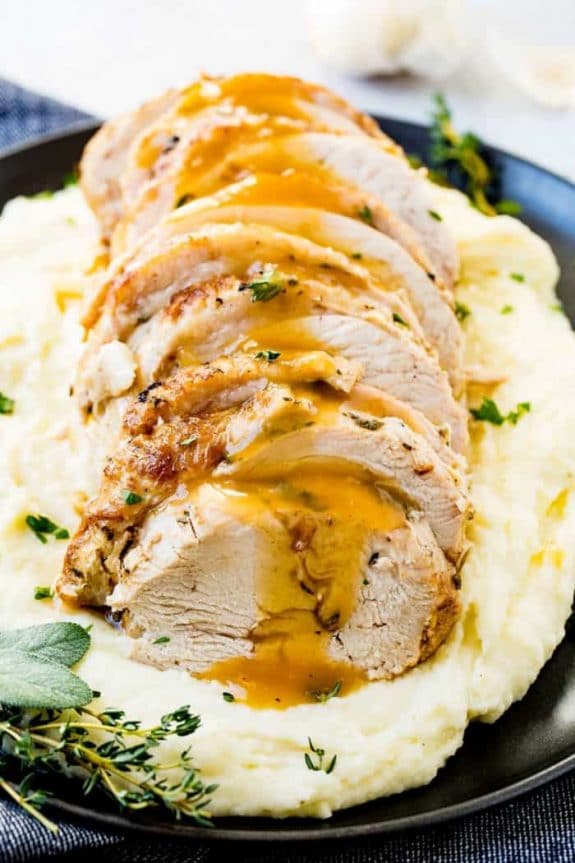 And one more, and this Award-Winning Instant Pot Turkey from Oh Sweet Basil sounds just amazing!
More Tasty Instant Pot Turkey:
(Visited 8,019 times, 1 visits today)