One of these Four Easy Taco Soup Recipes Your Family Will Love is a perfect Taco Tuesday dinner option for a cold night; and there are Taco Soup recipes here that can be made in the Instant Pot or slow cooker.
Click to PIN Four Easy Taco Soup Recipes Your Family Will Love!
Click here for The BEST Instant Pot Soup Recipes!
One of these Four Easy Taco Soup Recipes Your Family Will Love are just what you're looking for to make a warm, comforting soup on a cold blustery night! Combine ingredients including ground beef, beans, onion, tomatoes and a few spices, cook together in the Instant Pot or slow cooker and wait for the praise from your family!  As the Taco Soup cooks your house will smell amazing and everyone will be eager and ready for a delicious bowl of comforting soup at dinnertime. And you can always use easy Taco Soup recipes during the busy days of December, right?
All photos are copyrighted to the blog that posted the recipe. Just click the recipe title under any photo to see the full recipe on the original blog.
Instant Pot (or Stovetop) Low-Carb Taco Soup from Kalyn's Kitchen is made low-carb by adding a chopped Poblano chili pepper and a chopped red bell pepper to replace the beans. Kalyn uses spicy Ground Ancho Chile Pepper  to give this Low-Carb Taco Soup a beautiful dark red color. If you don't have Ancho chile, Kalyn says your soup might be a little lighter in color with regular Chili Powder, but it will still be delicious, and you can make this Taco Soup in the Instant Pot or on the Stovetop. So go ahead,  pull out your cooking pot and let's make Taco Soup!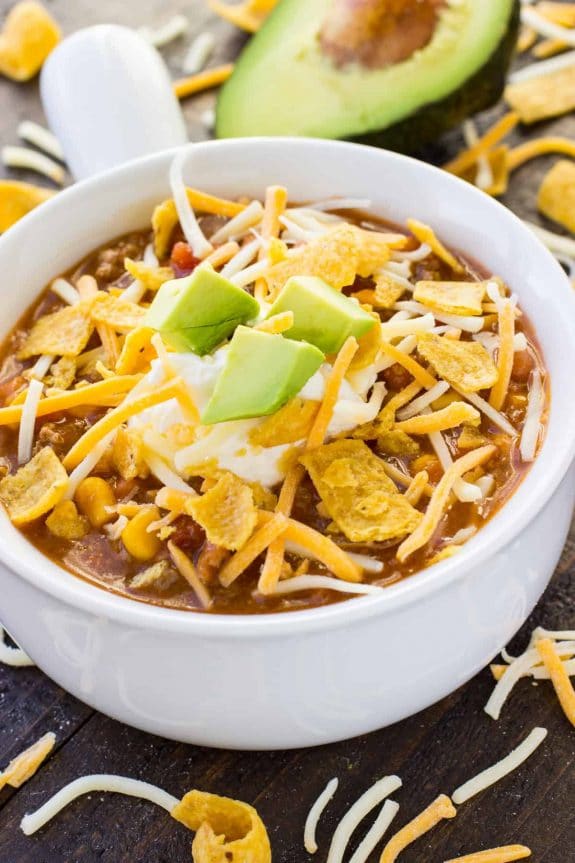 Cariann from Oh Sweet Basil says this Instant Pot Taco Soup is an easy weeknight dinner that's loaded with Mexican flavors! You can let family members add whatever toppings they'd like to this tasty soup!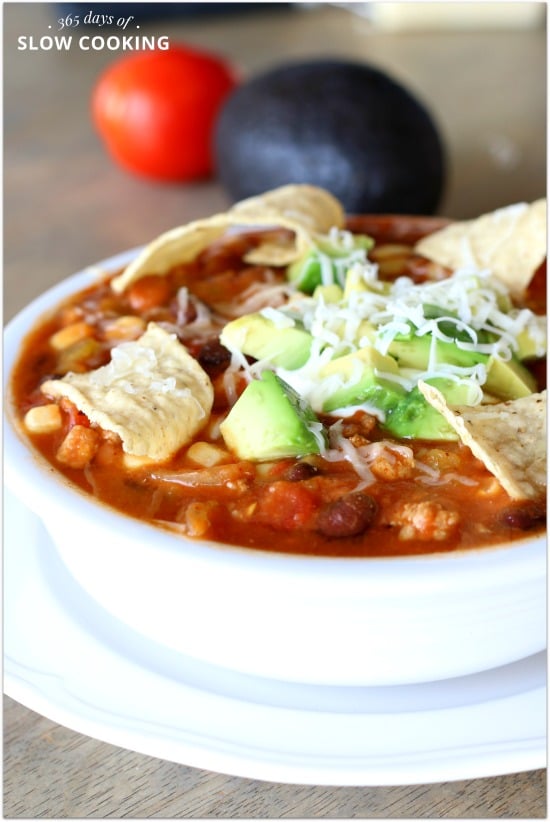 This Slow Cooker Creamy and Skinny Taco Chili Soup from 365 Days of Slow Cooking sounds enticing, and it's a delicious chili dinner that's comfort food without guilt. Karen says it's a cinch to make and cooks all day. Refried beans are the secret addition to the ground turkey, onion, green chiles, beans, tomatoes and corn, and the beans serve as a way to thicken the chili; great idea!
Taco Soup (Instant Pot, Slow Cooker, or Stovetop) from A Pinch of Healthy is super easy to make and Marjorie says it is perfect football-watching food! Included here is the Instant Pot, slow cooker, and stovetop instructions so you can choose whichever method of cooking you prefer. Just before serving add a few great toppings like chopped green onions, a handful of shredded cheese, and a side of tortilla chips. Serve it up and wait for the requests for seconds!
More Soup Ideas in the Slow Cooker or Instant Pot:
Use the Index Page for Soup or Stew to see all the slow cooker or pressure cooker soup recipes that have been featured on this site.
(Visited 828 times, 1 visits today)