Everyone will love Mexican Chicken for dinner, and this mini round-up gives you Four Fabulous Mexican Chicken Recipes that are all perfect for Taco Tuesday.
Click to PIN Four Fabulous Mexican Chicken Recipes!
Click here to see The Top 20 Instant Pot Chicken Dinners!
Who doesn't love chicken with Mexican flavors for a tasty dinner idea, and this mini-roundup gives you Four Fabulous Mexican Chicken Recipes to choose from. Easy chicken dinners, for the win!
There are options for the slow cooker or the Instant Pot and each one of these recipes for Mexican chicken has a slightly different take on the ingredients that make the flavors Mexican. And there are chicken dinners here that will taste good any time of year, whether you want cheesy salsa chicken, cheesy chicken and rice, chicken with black beans and avocado, or shredded chicken for tacos or other dishes.
Grab some chicken, add some Mexican flavorings, and make one of these Mexican chicken recipes for a tasty Taco Tuesday dinner!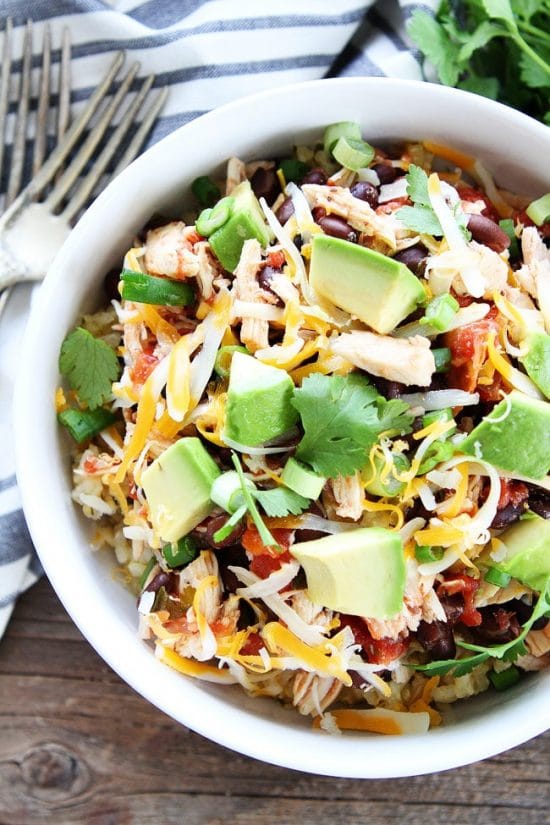 Slow Cooker Mexican Chicken from Two Peas and Their Pod combines tomatoes, black beans, chicken broth, green chiles, onion, garlic, cilantro, lime juice, cumin and of course chicken, and those flavors blended together produce spicy chicken that can be used in the most delicious tacos, burritos, salads, or anything else you can dream up that's good with Mexican-seasoned chicken!
Instant Pot Cheesy Mexican Chicken and Rice from Creme de la Crumb can be ready in 30 minutes with the Instant Pot, and don't you agree this sounds delicious!
Instant Pot Salsa Chicken with Lime and Melted Mozzarella is a super-popular low-carb Mexican chicken dinner from Kalyn's Kitchen. Or check out Slow Cooker Salsa Chicken with Lime and Melted Mozzarella if you prefer that method!
Three-Ingredient Mexican Shredded Chicken from Gimme Some Oven can be made in the Instant Pot or the Slow Cooker, and this tasty chicken can be used in a variety of ways!
What do you think? Which one of these tasty Mexican Chicken dinners would you try first?
(Visited 1,237 times, 1 visits today)